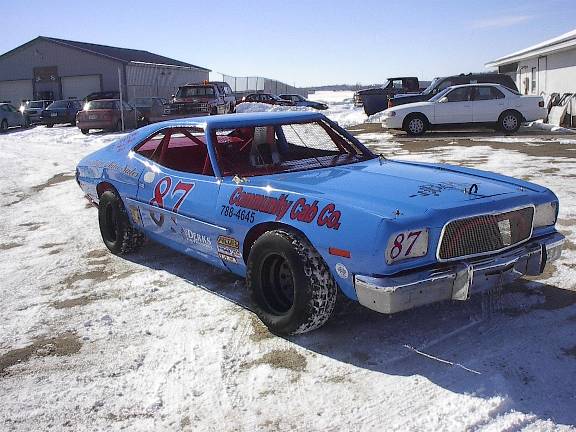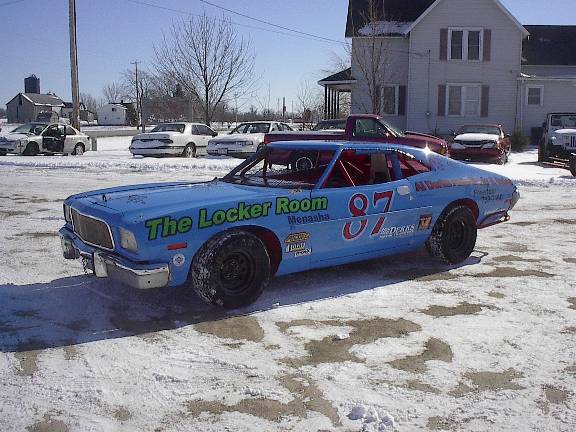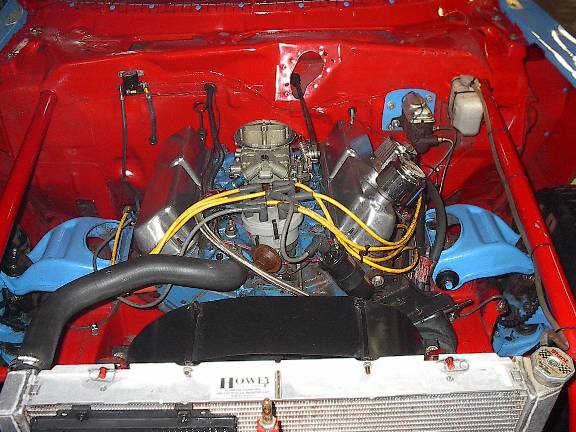 "I'm sorry to say we are selling this car on ebay and moving on to bigger game! this CAR IS OWNED AND DRIVEN BY AL DERKS 4 TIME TRACK CHAMPION. THERE ARE ALL CHEVY GUYS IN ARE NECK OF THE WOODS (WISCONSON) AND MAN THEY DONT LIKE TO BE BEAT BY A FORD! RIGHT AWAY YOUR CHEATING!!!!! WOW WE BUILT THE MOST AWESOME NASTALGIC OF OLD NASCAR DIRT CAR! TURNS A LOT OF HEADS! YOU HAVE A GREAT SITE! HERE ARE SOME PICS IF YOU WOULD LIKE TO POST THEM!
Engine: 351 Windsor 180cc rousch heads 3yr.old design. 30 over ross pistons, stock crank, canton race pan, carter racing fuel pump, 500 cfm holly 2bbl., howard's race cam 529 lift, intake duration 296 exhaust 300, 108 lobe center 10.5 to 1 compression. offset aircleaner 4 in. k&n filter.Howe Aluminum race raditater! ( PROFESSIONAL ENGINE BUILD BY B@B )$$$$$$ Transmission: Rebuilt C4 with trick torque convertor,Trans cooler, trans was also professional build by shop who builds for off road race trucks.$$$$$ Rear end: 9in. 6.00 gears 6.50 gears go with. Fuel system: Carter racing fuel pump with aeroquip fittings stainless steel braided fuel line from engine to fuel cell. RCR 8 gallon fuel cell with fram canister Fuel filter. Suspension: Qa1 steel body rebuildable shocks, AFCO springs, energy suspension front and back, new ball joints, tie rod ends, center link bar, idler arm, Ford blue powder coated a-arms upper and lower also rear control arms upper and lower. Brakes: new calipers, brake hoses, lines, pads, rear brakes, wheel cylinders, spring kit, ect.!!! Gauges: auto meter oil pressure, oil temp, and water temp, auto meter memory tach. Safety equipment: 18in. randercar aluminum seat, RJS black seat belts, coleman battery shut off switch. Paint: grabber blue base coat clear coat, interior 2000 Ford performance red. Rims and Tires: 15x8 Diamond racing wheels with Goodyear tires. Spare Parts:complete 1973 Torino 2-door parts car with 351w. spare C6 transmission. 2 extra 15x8 Diamond rims with Goodyear tires. We dont b.s when it comes to racing!!!! Im a 4 time track champion and will not build or sell junk! tons of$$$$ and hours of work went into building this car! non nicer! This car will turn heads as well as rpm's! "LETS PUT FORD IN THE WINNERS CIRCLE" I'm sure i left a lot out!
Owner Al Derks Appleton, Wisconsin"