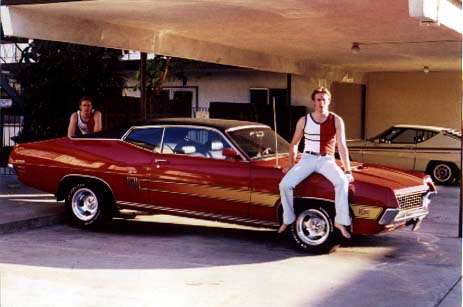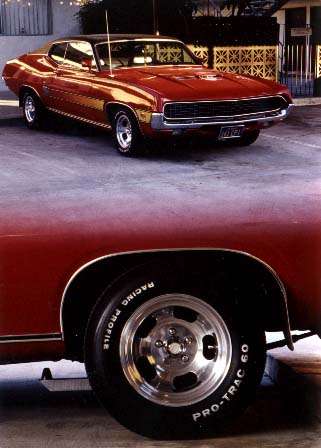 I received the following from Barry Madden of Sacramento, California. Barry writes "Mike, Great Torino site! I have been checking it off and on for the past couple of years, while dreaming of once again owning a Torino as I did from 1976 - 1982. I have attached a couple of photos of that Torino, a 1970 GT. I was experimenting with photography at the time they were taken (early 1982), and both are multiple exposures. Unfortunately, one of them shows me in the photo - and not once, but twice! That flaw aside, what the photos show that makes them of interest to Torino fans is that it was a sportsroof model with a vinyl top! I remember seeing other Torinos thus equipped back in those days, but haven't seen even a photo of one in recent years. This GT had a 351C-2V and a C-4 automatic. I modified it with a Holley 500 cfm 2 barrel carb, Doug Thorley headers with 2 1/2" dual exhaust, rear air shocks, 14" polished aluminum slot mags and bolt-on traction bars. The interior was black with the split bench front seat. The car was a real head-turner.
A few months ago I realized my dream to own another Torino. I found an ad in the local newspaper for a '70 GT with a 351C-4V. It had been parked in the current owner's back yard for about 8 years, waiting for him to get around to restoring it. It has front end damage, but came with an extra hood, right fender, and bumper. This man had bought the car from the original owners after their teen-age son wrecked it. Although the car sat for several years, the seller had always started the engine on a regular basis, so I was able to drive it home! This Torino has a white exterior and interior, an FMX automatic and front buckets with console. I can't wait to get started on the restoration! I'll take some photos along the way and send them to you.
I apologize for the quality of the photos. My scanner is only 300dpi, and the original photos were fairly small. I hope they are suitable. Keep up the good work on the site. It's an entertaining and educational resource, and the best of all the Torino sites I have visited.
Barry Madden Sacramento, CA"
Thanks for the compliment on the site Barry. I believe that you are right, that a vinyl topped sportsroof is unusual. Great car and great photos! I look forward to your photos of your Torino and good luck on the restore!!!! Thanks....