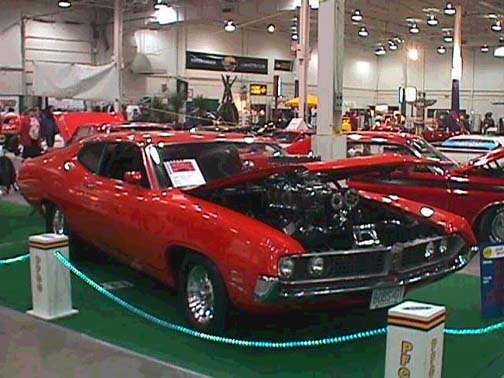 The following comes from Bob Biggart of Brampton, Ontario. Bob writes "Mike, Just a note to say congrats on a teriffic site. Should make every Torino owner very proud. I am attaching a pic of my 71 GT. Was a 351C car which I raced for a few years. Last winter I replaced the cleveland with a 466 cu/in Blown Big Block Ford. 671 Dyers w 2/750 Holleys, Hooker comps, C-6 Tranny, N-Case Locker, Strange axles etc, etc. Looking forward to the Woodward Cruise this year as it will be my first. Will look you up at the Ford Dealership. Keep up the excellent work!! Bob Biggart Brampton, Ontario"
Thanks Bob...WOW!! I am assuming you keep up with traffic pretty well! What am awesome looking machine, I love it! Looking forward to seeing you at the Woodward Cruise.....
ps.. Thanks for the compliment on the site....