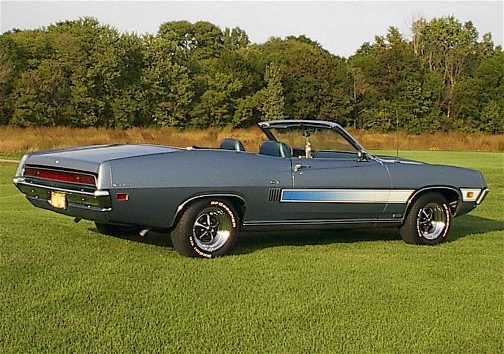 "Mike, I love your website. Believe it or not your site was forwarded to me by a Corvette Owner, who by the way loves the Torino. Before I purchased the 70 Torino I would go to car shows seeking to see Torinos and usually was extremely disappointed. I looked for nearly 5 years for the 70 before finding it and purchasing it in 2001. The average car show does not have a Torino on display. I get a kick out of attending shows now with my car and allowing others to go back in time.
Thanks for you passion in bringing this website forward. I have had a Torino since 1973, and would have it no other way. I am forwarding a picture to you of my baby, a 1970 Torino Gt Convertible. It has a 351Cleveland. It looks and runs as good today as it did when originally purchased on September 13, 1969.
Anyway, I am excited about your website and will be a regular visitor to it. My name is Bob McGuire. I live in Orland Park, Illinois."