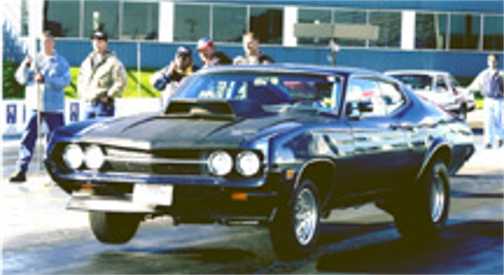 The following comes from Bob Munroe of Texas. Bob writes "The first Torino in the family was a 1970 Torino Brougham with a 351C and it was one of the best cars we ever owned. I lusted after the Cobra on the showroom floor but that had to wait until the family grew.
This is my second Torino Cobra. The first was a 1970 429CJ-R with a 4 speed that took 7 years to restore and had the original build sheet and history of owners back to the selling dealer. It was driven on the street, drag raced, ran on a high speed oval (132 mph in street trim) and won a lot of trophys. It was totaled in July 1995 by a driver running a red light at over 60 mph. After parting out the pieces that I could I went after another Cobra and purchased the 1971 which was not nearly as nice.
At my age I decided against restoration and gradually changed it into a street legal (was registered until the end of 2002) and decided to mostly trailer it and compete with it. In addition to bracket racing I ran NHRA Super Street (10.90 index) in Division 4 in 2002. I was featured in the Nov-Dec 2001 Fairlaner magazine. It has a 557 cubic inch engine built on an A-460 block, billet SCAT crank with Chevrolet journals, Eagle H beam rods, custom Ross Pistons, and fully ported Trick Flow aluminum heads. I run 14.2 compression ratio and have a mechanical roller cam (Crane). The headers are Hooker Super Competition with jet coating. The engine tested at 790 HP and 680 ft-lbs of torque. The transmission is a built C6 and the rear end is a reinforced Ford truck banjo as I twisted the car one. The only change to the suspension has been to add Southside Machine lift bars to the rear. The car weighs 3740 wet and with me in it the total weight is 3960. It has run a 10.457 second quarter at 127 mph at the Texas Motorplex and runs consistently under 10.6.
As I am 67 and find it too hard to do all the loading, unloading, etc. in the hot Texas sun and wish to sell the car. Regards, Bob Munroe"