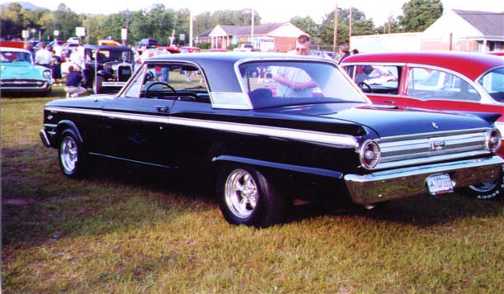 The following comes from Bobby Chester of Dahlonega, Georgia. Bobby writes "Mike, Love the website. I've always been a fan of Fairlanes & Torinos. I've got an uncle (more like older brother) who had several Fairlanes & Torinos when I was at that impressionable age 10-17. I remeber 2 66' GT Fairlanes, 2 69' GT Torinos, 1 70 Cobra and a 70 Torino GT Broughm(?) that I borrowed to drive to my Junior prom. It was a 351 Cleveland car with posi-traction...and yes I had to impress the girl with a burn-out!
Anyway, now I'm married, kids, mortgage, etc...but I still have the Fords in my blood. I don't own a Fairlane or Torino, but I do have a 63 Falcon Sprint. I noticed you didn't have a 63 Falcon in your pictures of "All Fords". I'm going to include a picture of my car and please feel free to include it in your list...or not. I'm also going to include a picture of my best friend's 63 Fairlane K code car. We both grew up in Dawsonville Ga, home of Bill Elliott and ThunderRoad USA where Rick Littell held his mini-meet last fall. We were both there with our cars, at least at the make-up date.
GREAT SITE!!! I really enjoy seeing all the Torinos!!
Thanks for you time, Bobby Chester Dahlonega, GA"
Thanks Bobby, any friend of Rick's is a friend of mine and I would love to share your car with the world! Both are very beautiful cars! Thanks.....