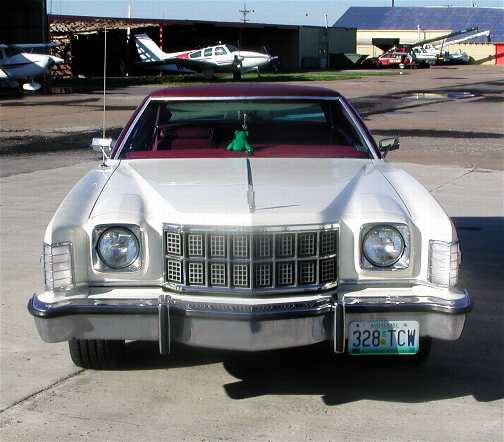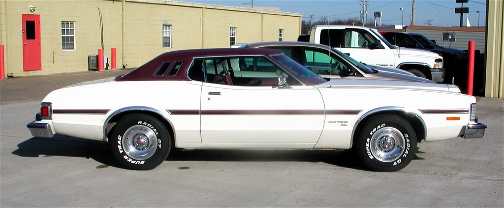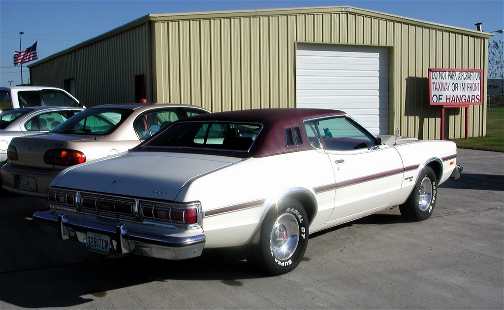 "Hello Mike, First I'd like to commend you on the great looking site, it's obvious that alot of hard work has gone into building it. I have really enjoyed perusing it and will certainly be back.
I saw all the photos of the guests cars and thought that I'd share a couple of mine as well if that's okay. I bought the Ghost 1997 with 60,000 miles on her. I'm the third owner and the first two were brothers, I guess they were trying to keep it in the family. Anyway a lot of people don't give the Elite credit for being a Torino and treat it as a step child so to speak but any way here she is. The car is all original except for some powerplant modifications (same engine just some major massage work)
She's a 1974 Q code car, C6 tranny and 3.25 rear gears (since changed to 3.50). The paint is original Wimbledon white with burgundy trim and top. I had the top replaced about 5 years ago but the rest is 100 % original.
The engine has been bored .030 over with TRW forged pistons, total seal rings, balanced / polished rods, port plates, edelbrock torker intake w/ 750 carb, Lunati bracket racer cam (Equivalent of about a 280 grind), lunati springs, locks and reatiners, Ford motorsports roller rockers, Hooker super competion headers, K&N air filter, electric fuel pump, I elimated the original clutch fan and installed a flex fan, installed a morroso windage tray, the ports in the heads have been cleaned up a bit and the valves replace with manley and the seats worked over. I've never had it on a dyno but all the motorheads I know say she's an honest 425+ hp.
the car evidently came with some sort of major performance handling package as the front sway bar is 11/8 in and the rear has some real beefy almost traction bar looking pieces. the brakes are alot heavier than normal I have a fellow ford nut friend who has a shop I had him do the brakes and install polyurethane bushings all over. When he rebuilt the rear wheel cylinders and went to get the seals he almost didn't find them and when he did they were for police models or something like that.
I bought a stall converter but the original converter is a stall converter and on the recommendation from my friend I mentioned above I left it in place and sent the one I bought back.
I don't know how many Q code Elite cars were built in 74 or anything about the other Items like the beefier suspension and stall converter and heavier brakes but the Ford and especially Torino guys that have seen the car and and how it was set up from the factory say it's special. I have found that it's hard to get much information about Elites though. If you might know how I can get any additional information I would greatly appreciate the help.
I know I have really rambled on here in the describing the old girl but she's worth in my humble opinion even though she's may not be a 70' SCJ car or even on par with them.
Anyway I have enjoyed the site you have and have it saved in my favorites so I'll be back often. ( but I promise not to be sooo long winded in the future.
If you have read this far LOL thanks for reading my ramblings as well.
Have a great afternoon Brian Dennis Caruthersville, MO"