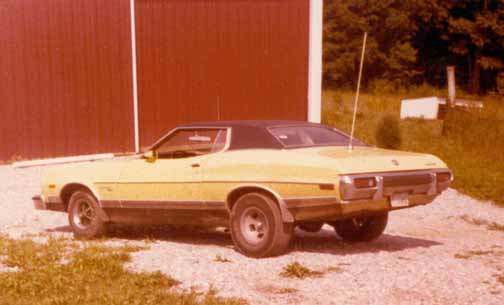 The following comes from Carl Sharp of Liberty, Indiana. Carl writes "Dear Mike, After re-reviewing all of the great looking Torinos on your site, and seeing your "High School Torino", I thought I would like to share the only photo I have of mine. The picture is not great, I'm sure I used a 110 camera with the only roll of film I ever bought for the thing all through high school, but the car had some great memories. I apologize for the fuzziness of the photo, and the poor choice for a background in my only shot of the car.
It wasn't the fastest car in the county, but it was fast enough. What it was, though, was unique. There wasn't another like it here (or probably anywhere else, either). It was big, flashy, loud, quick, and drank huge quantities of gas. But, it didn't matter. It was mine!
I installed dual exhaust on the thing shortly after I bought it. It had 2 1/2" chrome straight pipes that exited just in front of the rear tires. These straight pipes had mufflers welded on the outside, so that the car looked like it had a legal exhaust system. The passenger side would belch flames about 2' - 3' long whenever I kicked it down into passing gear, due to an over-rich fuel mixture and a slightly burnt valve in one cylinder head. I even installed a set of yellow fog lights behind the front grill that caused the entire front end of the car to have a yellow glow at night. I may never have become a famous race car driver, but the sight of that car passing the school bus on a foggy road in the pre-dawn light generated some great looks of amazement on those faces pressed to the glass, not to mention a lot of whispering during our "home room" period during the first 15 minutes of school.
Thanks for the trip down memory lane. Please register me. I've already sent a photo of the 1969 Torino that my son convinced me to salvage rather than strip for a parts car. But, here is a picture of the 1973 Gran Torino Sport that shaped my high school years. It had a 351 W with a few "minor" alterations. (You'd be amazed at the performance parts you could find in the tractor supply places back in the 1970's.) Thanks, Carl Sharp Liberty, IN"
Wow, thanks Carl. That is one great story and one great old photo! I love the pictures that are turning a little yellow. They bring back great memories we can all share. Thank you for sharing that one with us!