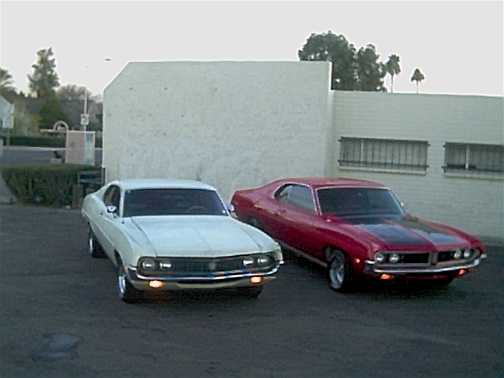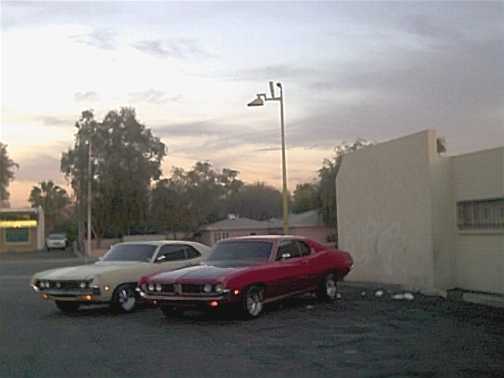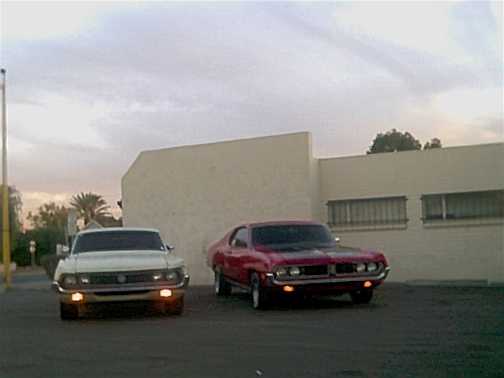 The following comes from Carmelo in Phoenix, Arizona. Carmelo writes "Hi my name is Carmelo and I'm from Phoenix Arizona, I just wanted to share my Torino to the rest of you guys. As you can see in the picture there's two, let's start with the white color one. I'ts a 1970 Ford Torino hardtop with the 351 Cleveland engine( that's my car). I bought this car about 2 years ago and I'm just starting to bring this beast alive. Here's some of the things I've done to it. Cragar rims all around, air shocks, hedman headers, rebuilt carburator (stock one), sound system, tinted windows, new starter, and dual exhaust with flowmaster. The red one is my brother's his name is Evaristo, he just bought his about 5 months ago but he has done quite alot in this time. The Torino is a 1971, he has the 302 on it. Here's some stuff he's done to it. Tinted windows, dual exhaust with flowmaster (2 1/2 pipes) Cragar rims also, air shocks in the back, and recently he did the paint job on it as you can see it looks fantastic. Well those are our Torinos hope you like 'em. We'll send you more updates as the time goes by.
P.S. You have the greatest Torino site on the planet."
Thanks Carmelo, it's look like Torinos are a family matter! Both are fantastic, thanks! And thanks for the compliment on the site....