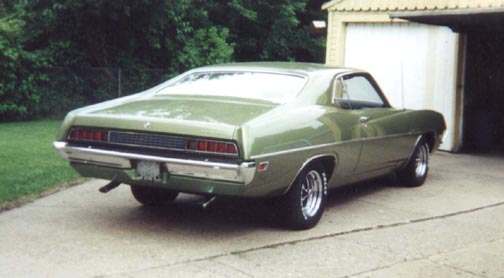 "Hey Mike, I'm a Torino owner in Ferndale, Michigan not far from you. I have a 1970 Torino 2 dr formal hardtop. Here are some more cool details on my Torino. 1970 2dr formal hardtop w/302 2V, C4 trans, PS, original AM radio re-installed, original black interior in great shape with front bench seat, original medium ivy green metalic paint in OK shape, and 14x7 Magnum 500 wheels to finish it off. I forgot to say that I just flipped 37,000 original miles on the odometer. It was built in Atlanta and originally sold in Indianapolis. I have the business card of the salesman from the Ford dealer in Indianapolis. I bought it a year ago and have only put about 500 miles on it. It runs like a top considering it is pretty much all original except for a dual exhaust system. I was in the Dream Cruise last year since I only live a block off of Woodward Ave. Unfortunately, I probably won't be in this years cruise cause I have to go out of town on business. I'm going to try to make the mini meet in late July. I want to get some better pictures taken so I can send them to you to put on your website. The one I sent was taken with a disposable camera.
Thanx for a cool Torino website. Chris"
Thanks Chris, I appreciate the kind words. That is one great looking formal hardtop! It's a shame you won't be at the Woodward Cruise this year. Would be great to see that car in person! See you in July though.....