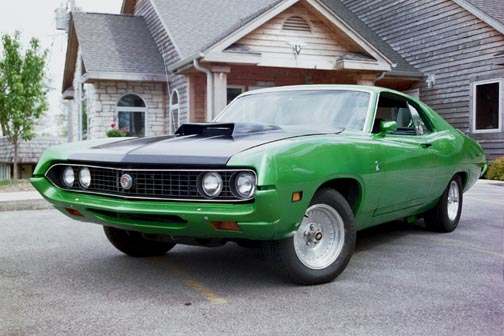 The following comes from Chris Seaborn of Waukesha, Wisconsin. Chris writes "My name is Chris Seaborn I live in Waukesha, Wi. I've had my 70 Ford Torino for 3 years and Love every minute of it. I drive it as often as I can. Ok now for the list. It has a 429 Thunder Jet bored .040 over, heads are still un touched, rough estimation is around 475hp at fly wheel, C-6 trans, ford 9 inch with 4.11 spool, to date my best E.T. is 12.64 at 107 car weighs 3925 with driver. It has fiberglass front & rear bumpers, boss 429 hood scoop, 71-73 Mustang rear spoiler. The only thing I'm still looking for is a back seat it has blue vinyl interior."
Thanks Chris, great car and a great ET! 12.64 is a great time for a car that weighs almost 4000 pounds! Looks sharp too, thanks!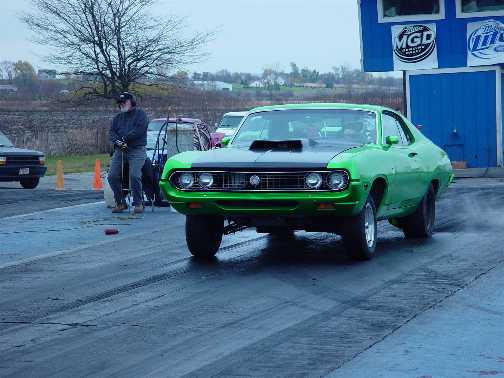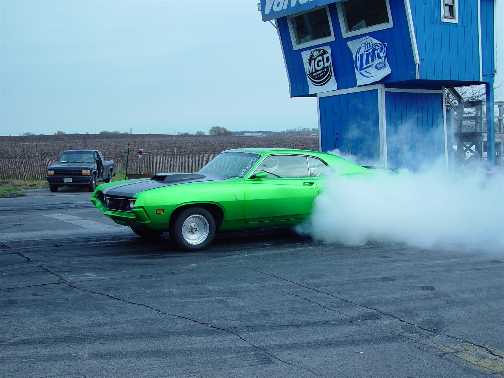 12-28-2003 - "Chris Seaborn Waukesh, WI. Hi Mike, I enjoy your site very much it's a lot fun seeing all the great cars out there and reading about there cars and what they have done to them. In the fall I just set a new best time for car and all I did was a little tuning car still weighs 3925 pounds with driver 12.49 et at 108 mph 60' was 1.77 on M/T ET Streets tires. Keep up the great work, hope you and the other people out there enjoy the pic's. And most of all keep on cruising!!!!!
Thanks Chris "