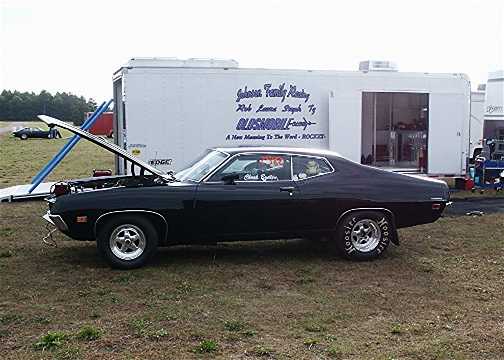 The following comes from Chuck Bydlon of Minnesota. Chuck writes "Mike, do you plan to go to the fun ford weekend at Cordova this year. looks to be Sep 5-7, I plan to race my car there this year. I would like to go to the bash at the beach but this latest motor combo does not lend itself to cruising very well. It would be nice to meet up with some of the guys from the board from the midwest. I'm keeping my eyes open for a builder cobra, but unless it appears soon and cheap i don't think I'll make the beach bash, with my car anyway. I sent along a jpeg of my car, no action shots right now, when I do I will forward them along. some specs are 532 cid approx 730hp have yet to dyno the new combo but the old was 698 hp, comp prepped c4 with 35 spline shafts in a spooled nine inch.
Your torino compadre, Chuck Bydlon Minnesota"
Thanks Chuck, what a machine! Sounds like a monster! Sweet......