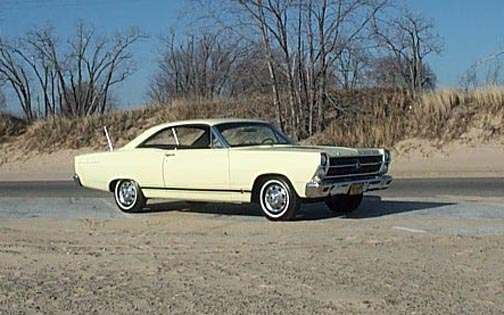 The following comes from Chuck Stebelton from just outside of Grand Rapids, Michigan. Chuck writes "Mike, Just a pic of my '66 390 GT that I took today at the beach front by Muskegon. Couldn't leave it in storage any longer. Had to get it out and drive it! I bought the '66 back in 1982 while in Jackson,Tenn. I spent four years restoring it. It has the 335 horse 390 with a 3 speed manual. See you on July 28th. While looking at my Cars and Parts magazine today, I noticed the Dearborn 2001 show is that weekend, so I plan on taking that show in on Sunday, the 29th on my way home.
Happy Fairlaneing, Chuck Stebelton"
Thanks Chuck, FANTASTIC looking car! From the looks of it you spent 4 years doing it right! Especially like the dual antennas. See you in July. Thanks....