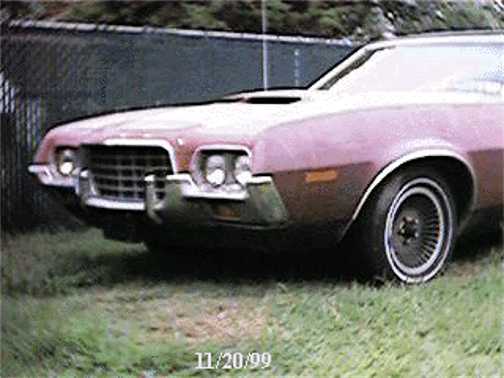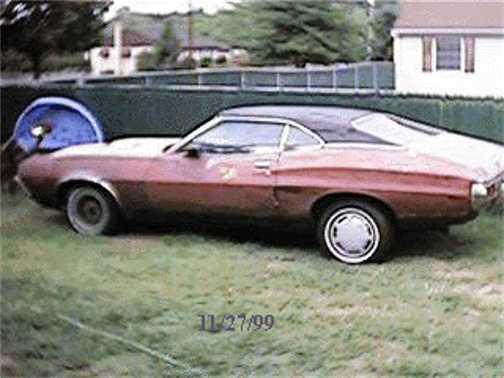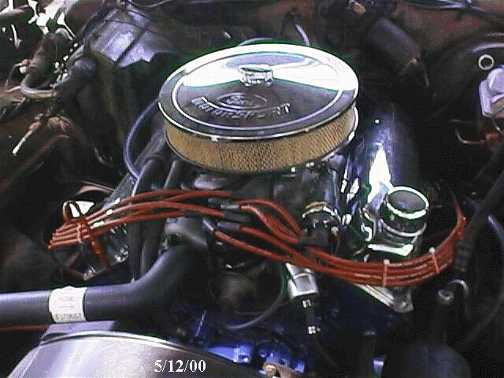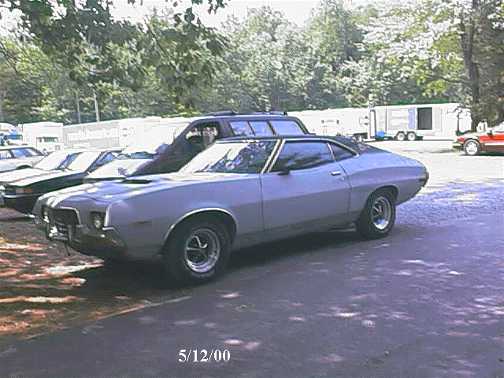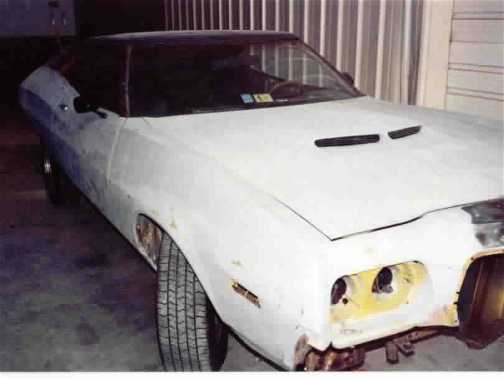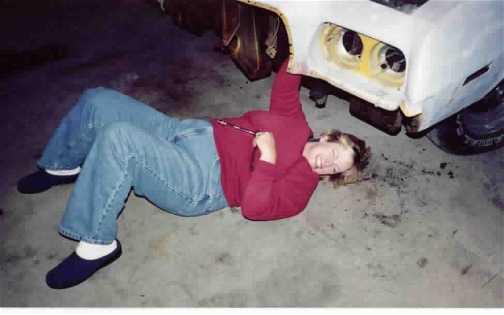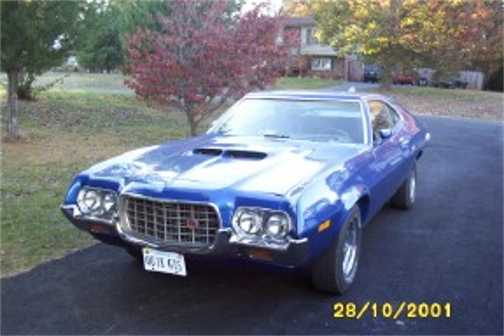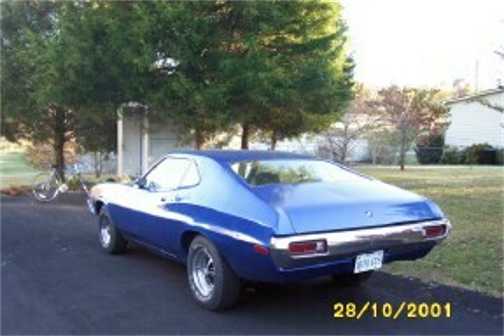 The following comes from Clint R. Sherlin of Concord, VA "In August 1999, I decided to try and find a 1972 Ford Gran Torino Sport. My goal was to find a fairly complete car that I could rebuild. After searching all over Central Virginia, I was unable to find a suitable candidate for the project. Most cars I located had major rust. My son, Jon, was surfing on line and located a note on a message board stating that someone had a Torino with minor rust in the floor, but otherwise sound condition. He left a message for the poster to return. After a week, "Tom" in New Jersey, responded. After we chatted by email, he sent pictures of this beauty.
After receiving the pictures, Susan and I headed to New Jersey with apprehension to view this specimen. When we arrived, we were greeted with a surprisingly complete car. There were areas of concern, but the car was mostly there. This was in November 1999.The first thing I wanted to do was determine the mechanical condition of the car. I immediately did a tune up and put a kit in the Holley carburetor and discovered a miss at idle. I was unable to correct this and did more diagnostics. My worst fear was confirmed. I had water in the oil shortly after I did these adjustments. I either had a blown head gasket, a cracked head, or a cracked block. In January 2000, I went to a friend's (Tom Girard) house and we pulled out the engine. A funny side note is, when I drove it to Tom's house, the engine died in his driveway and would not start back up.
After pulling the engine and disassembly, Tom and I discovered that the right head was cracked. We had the block sonic checked and it was determined to be good. The surprise was that the machinist stated he had never seen a Cleveland block cast as straight as this one. The following was done to this "H" code 351 Cleveland:
Ø Block: Bored .030 over (357 cubic inches), all cylinders were trued, # 8 cylinder sleeved then bored, block decked and shaved .010, main journals align bored, oil passages chamfered and relieved.
Ø Crank: Turned .010 on mains and rod journals, balanced with flex plate and harmonic balancer.
Ø Rods: Rebuilt both ends and balanced, installed ARP rod bolts.
Ø Pistons: TRW .030 pistons with 9.35:1 compression, balanced with rods.
Ø Heads: Aussie 302C with 62 cc closed chambers Mild street porting, hardened seats installed, bronze valve guides installed, Manley stainless steel valves, ARP valve locks, Crane PowerMax roller rocker arms (1.7 ratio).
Ø Camshaft: Crane PowerMax with .498 / .510 lift and 268 degrees duration.
Ø Intake Manifold: Edelbrock 2VLB.
Ø Carburetor: Edelbrock 600 cfm mechanical secondaries.
Ø Air Cleaner: Ford Motorsport with a K&N Filtercharger.
Ø Headers: Hedman Hedders 1 5/8" primaries, with 2 ½" collectors.
Ø Distributor: Mallory full mechanical with high voltage coil.
After getting the engine in good order, the transmission was next. The Ford C-4 was sent to Aamco Transmissions in Richmond VA to be rebuilt. Heavy-duty clutches were installed, a shift kit was installed, and a 2500-rpm converter added.
The engine and transmission were installed in March 2000 and its maiden voyage began.
Next on the agenda was to get the car legal for street usage. I took it to Auto-Tech and had a 2½ inch exhaust installed. After that and a state inspection, I started getting this Hotrod more presentable.
I began by stripping the body down to the metal. Under the red oxide primer, I found a medium yellow, followed by a pale yellow, followed by the original pewter silver, and finally the factory primer. I then sprayed on a medium gray primer to do until the paint job arrives. The vinyl top was so bad, I removed it and primered the top in black. I ordered a set of 15X7 Magnum 500 wheels and put on a set of 275P70-15 radials.
The next phase of reconstruction was to change the high rear gear from 2.75:1 to 3.55:1. This helped greatly with off the line performance. While changing the gear, Tom and I rebuilt the rear suspension with new trailing arm bushings and coil springs. This occurred in August 2000.
In September 2000, Larry Buckles and I stripped down the body of all adornment, changed the doors (from a parts car) added a trunk lid that I bought from another parts car, and a hood from yet another parts car. Then Larry addressed all "areas of concern" and primer and sealer were added. In November of 2000, all body work was completed. As winter arrived everything came to halt. In April of 2001 the paint finally arrived. The color I chose was 1998 Dodge truck Iris Blue.
Clint R. Sherlin
Operations Manager
Moody Moving and Storage, Inc
http://home.mindspring.com/~gts351/index.html"