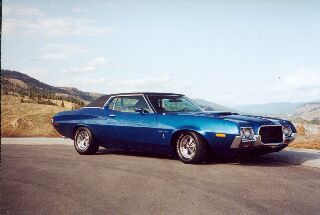 I received the following from Darryl Abate of Kamloops, British Columbia, Canada. Darryl writes "Hey there. Just emailing from good ole Canada. And yes we have running water up here. My Gran Torino has a very special history. When you see it, you'll see the obvious aftermarket stuff like GTS Viper Blue paint job , but.... thats it. Its lowered just a tad (1.5") for performance. Otherwise its stock. 44,509 original miles. It has blue comfortweave seats, vinyl roof, full carpet,
power windows, pw locks, pw steering, pw 8way bench seats (R A R E), and the heart of the car: a 351 Cobra Jet Code Q. Rear end is a 9" 3.25 type R locker. Other options include dual exhaust a rare hood scoop (usually found on "sports"), and working A/C. I am not sure how rare this car is. Its actually a 1972 Gran Torino Brougham. But with the 351CJ, factory high stall converter and locker rear end? I want to know how rare this beast is!! Also my dad bought it brand new from Dearborn Ford in Kamloops in 72. Traded in a rare 67 AMC something something for it. I don't expect you to add all of this to the description on the photo page, you can do the editing of course!!
Thanks!!!
Darryl Abate, aka CobraJetBoy"
Thanks Darryl, great car and story. Not really sure how rare the car is, but for 40 some dollars you could get a report from www.martiauto.com that will tell you.