Here she is before I got her.....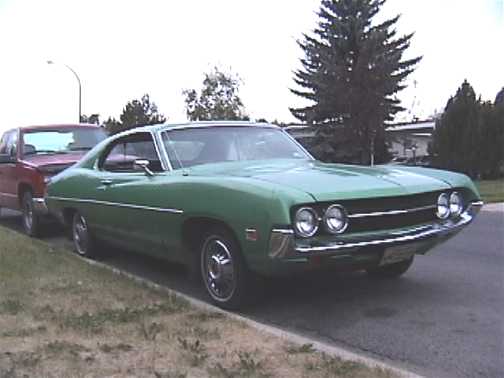 ... and after I played a little.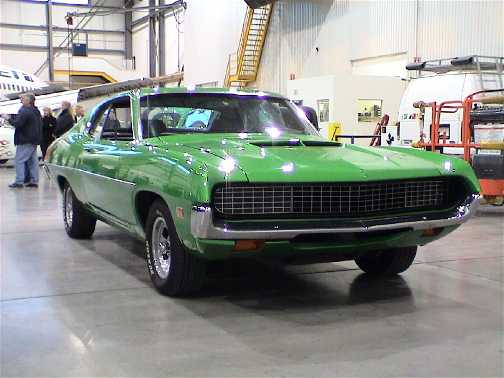 The following comes from Dave Pichlyk of Calgary Alberta, Canada. Dave writes "Hi mike! First of all, love the site, even before I owned my Torino! I'm from Calgary Alberta, Canada, and own a 1971 Ford Torino formal roof. I bought it from a fella about two hours south of Calgary, who's aunt owned the car before him. It was in fantastic shape with only 87,487 miles, and was exactly what I was looking for to begin a nice resto-mod project.
Currently, she's equipped with a completely stock 302-2V, Auto, black vinyl bench interior, and has been re-painted in the original Medium Metallic Green, I've since installed a GT vented hood, GT taillights and hide-away grille from a 1970 GT. Also, I restored a set of mid-70's E-T aluminum 14x8 slotted mags and bolted 'em up. Man, they really set the car off!
This car sticks out like a sore thumb and always manages to get a lot of attention.
Please check out some more pics of the restoration at: http://groups.msn.com/1970and1971Torino/_whatsnew.msnw in the pictures section under CRAZYDAVE's Torino.
Thanks for all the hard work you've put into your outstanding site!
Keep It Up!
Dave N. Pichlyk (aka: CRAZYDAVE)"
Thanks Dave, WOW..what a difference! She is looking great, and thanks for the compliment! Tahnsk....