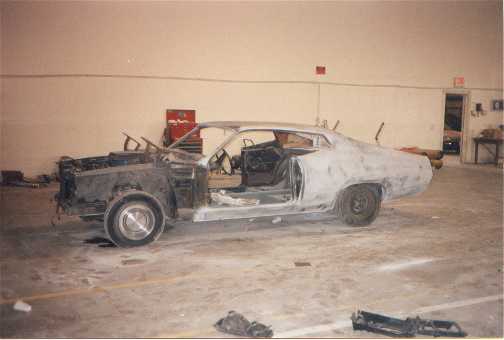 "Mike, Here are some pic of the 70 Cobra I bought in 1994. I got it from an eye doctor when I lived in FL who was using to tow around a ski boat. It's Dark Ivy metallic with black interior. I have the 429 "N" motor with a C6 trans and non-locking rear with 3.25 gears. It is also equipped with A/C, PB, PS, window louvers, and the shaker setup. I question the originality of the shaker as it was not mentioned on the marti report but everything appears right. The car was pretty solid except for the floors and cowl which I had replaced. Don't let anyone try and fool you, Florida cars do rust.
With a 4yr old and 8 month old twins, I don't have a chance to get it out very often. 2dr fastback cars are not carseat friendly. Our 4yr old loves go ride in it when we do get it out.
With it now being winter time, my Torino fixation is eased by looking at all the great stuff on your web site. Here's a few before, during and after shots of ours
David & Wendy Hill Hammondsport, NY"