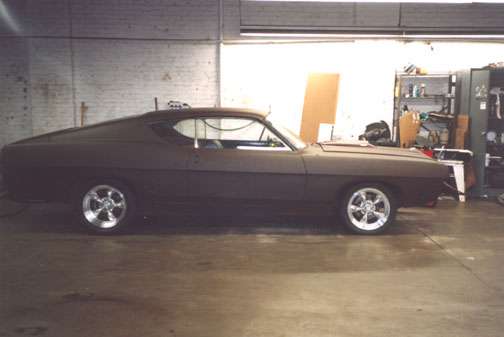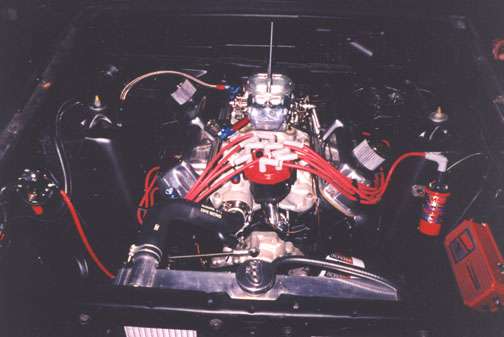 "I received the following from Doug wood of Dayton, Ohio. Doug writes "Hey Mike, Here are a few pictures of my 68 Ford Torino GT Fastback. This car was suppose to take a year but 4 years later it's getting closer to being done. It's in primer now but it's already getting jammed out. I'm going back to the original blue metallic with factory C-strip. All the chrome has been redone and waiting to be put back on. This car is not a matching numbers car, but my father bought it when it was new in 68 and I got a hold of it when I was 14 so it's been through changes over the years.
Enough of that, lets get to the good stuff. I replaced the original 302 with a 351 Windsor stroked out to 410 cubic inches, with all the goods to make the power. It has a warmed up C6 with a 10 inch TC:3000 convertor. Just installed a 9" rear end with a nodular center section from Mosor Engine, with 4.30 gears and a Detroit Locker and new axles from Moser and Southside bars. Stopping the Torino is a 4 wheel disc brake set up with Wilwood discs in the back and John Mustangs set up front. I wanted something different for the wheel choice so I got 17" Torque Thrust II's with 205/50/17 in front and 255/50/70 on rear with Bridgestone RE730's. Also been replaced is the front and rear suspension. Only thing is left is the interior and going to buy the interior package from Dearborn Classics. THE NAME OF THE BODY SHOP WHO IS DO THE THE WORK IS CHUCKS BODY SHOP OUT OF FAIRBORN OHIO! I'll send you a later picture when the Torino is all done. Thanks for the great site. If anybody has any question about the wheel sizes or anything else, email me at torinodw@aol.com Thanks Doug Wood, Dayton Ohio"
Thanks Doug! What a great car and you have done some fantastic work to it! I can't wait to see the finished product. Thanks.....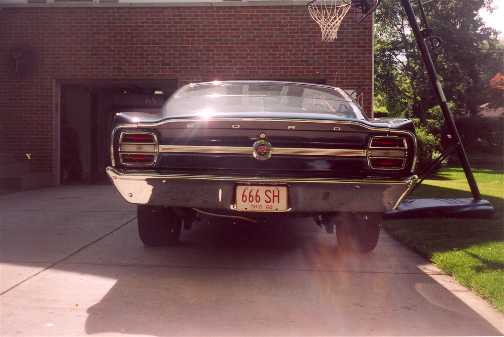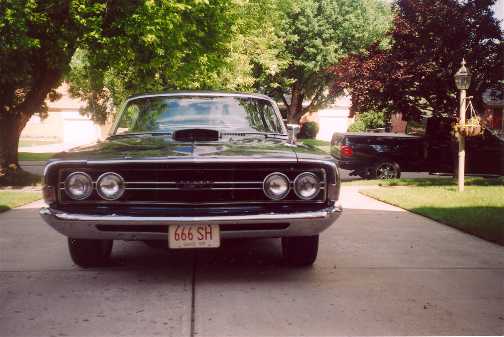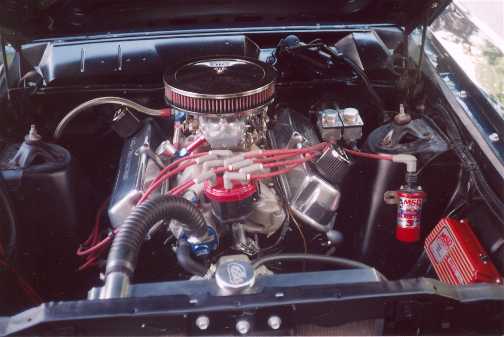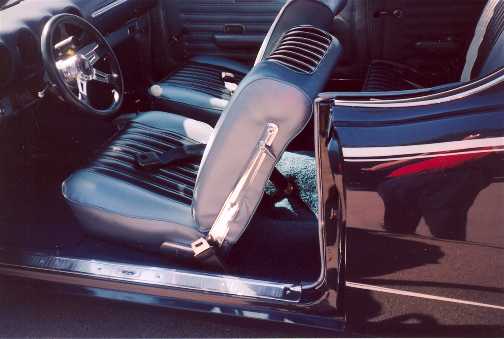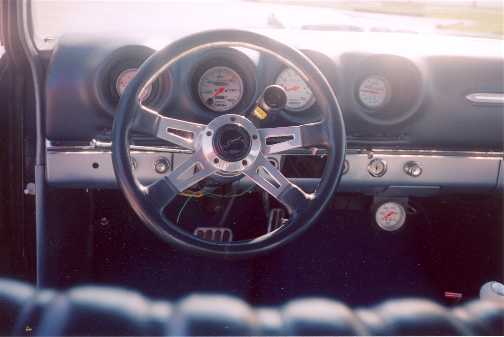 9-25-2003 - "Mike, here is a couple of photos of my 68 Torino. Last time you saw pictures is on page 8 of the guestcars. My Torino turned out well and it gets a few looks as well. Only thing I have done lately was took off the Flowmaster and added a stainless 2.5" exhaust with stainless MagnaFlows mufflers... SOUNDS AWESOME! The only other thing in the near future is a Paxton Supercharger kit. Keep up the cool site.
Thanks, Doug Wood, Dayton, Ohio"