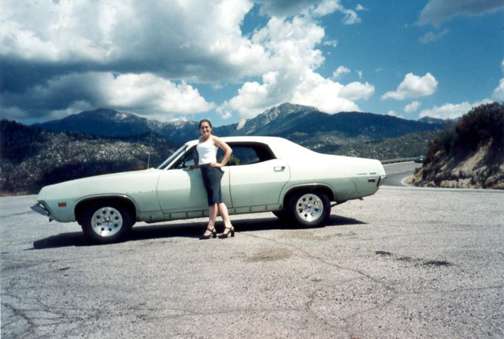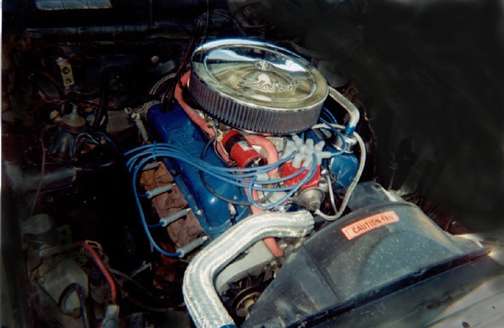 This letter comes from Kevin and Cheryl of Hemet, California. Kevin and Cheryl write "This is our Torino, I know it is a four door but it has personality... Why? Because my fiancÚs and I have had it since high school and have been working on it since. It was free, "get it out of my yard and it's yours" the old lady said... four years later, the car runs high 14s in the quarter off a 302/c4 and she did as much work as i did but she drives it everyday and says it's hers... sure.
The 302 was a remanufactured long block from Auto Zone, 10.5-1 Compression through 351 heads Polished to help prevent pre ignition (very hard to do without running premium and a vapor injection) and stock valves with the exception of screw in studs. Carter AFB 625 vacuum secondary carburetor on a one inch open spacer (allows for a little more top end performance), performer intake and matching cam, Stock distributor with a pertronix unit, MSD coil and 8mm wires to Autolite platinum plugs. Trans is a C4 trans packed by B&M and 2500 stall converter to the stock eight inch rear end with 2.79 gears (not the best for drag we know), but we still broke into the low 14s with it and with full interior and, at the time the AC, How? We compensated by putting on the stock 14 inch rims with small small tires (we run high 14s on the big tires). Thing is the perfect sleeper and we pick on local imports too often to go unnoticed...so we go out of town. Its like running around and smashing the big toes of the cocky rich kids in town. We had quite a sound system until recently when some idiots stole it.
Plans for the future?
In the market for a big block to supercharge but want to keep it all under the hood for even more sleeper action. we like the whole idea of being able to carry all our friends and luggage to Vegas in three hours comfortably
Any way I could write a book about this car but don't want to waste all your time, it has been quite a quest with more to come and we have learned much coolest of all is that the car was always ridiculed by classmates because of how ugly it was but once we went to college and had our grants roll in, we showed em' just how awesome the thing is.
Thanks Kevin and Cheryl"
Thanks guys, nothing wrong with a 4 door! I like em! The best cars are they ones you are sentimentally attached too anyways!