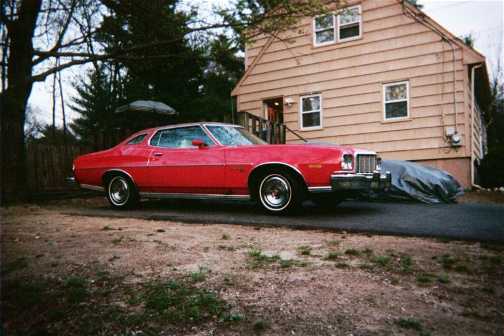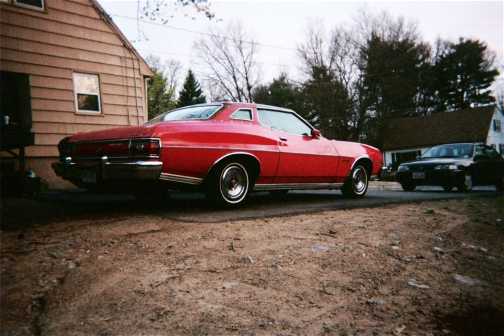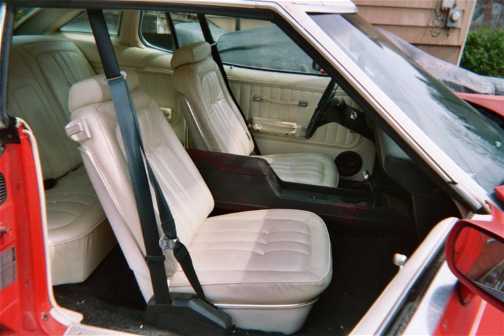 "Hi Mike, I check out your site regularly, Its great! I live in Mass and 72-76 Torinos are hard to come by in this area. Two weeks ago I drove twenty eight hours with a friend of mine out to Ohio to pick up one I bought off the internet. Surprisingly it was in better shape than expected!
75 GRAN TORINO SPORT, 66k original miles, like new white interior, console, buckets even the original shag black carpet is near perfect. You cant buy that anywhere that I know of. The body is dent free, minimal rust and original paint!! The engine was just replaced by the previous owner (351M) with a "rebuilt" one but it doesn't hold oil pressure. I think I may just go with a Reman for the warranty. The worst spot I can find on the car is the rear bumper re-enforcement is rotted but not falling off. All in all I am very happy with the purchase and look forward to completing this project. I already removed the white vinyl top, I don't like them and they just ask for rust to set in. I'll send better pics as the car gets better! great website and by the way being a single dad of a 13 year old boy and a 10 year old girl (tomboy) my apartment is decorated very similar to your house.. LOL.
Thanks,fourgearz@aol.com"