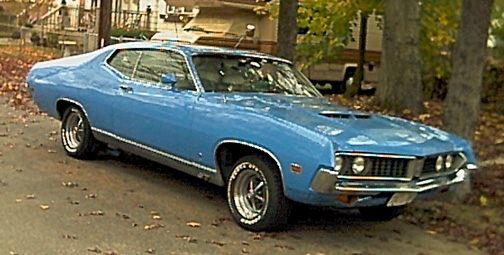 "Hey Mike, Happy to see another Ford fanatic out there. I live on Long Island in New York. This is my 71" Torino Cobra GT. It has a 351 C, 4 barrel, C6 Auto, Traction bars. You would not believe that I picked this bad boy up in mint condition, fully restored for $2500.00. Modifications - Edelbrock RPM Manifold, Cam specs (unknown) haven't miked up yet, shift kit, Mallory Unilite Electronic ignition, LED triggered, Holley 650 vacuum secs, still saving $$ for laser stripe (unless you know where else (besides Dearborn Classics) to get one) has original GT 500 rims, all receipts from previous owner, I also have a set of factory option louvers, haven't installed yet. I also own a 68' Torino GT Fastback with a 460, setting it up for track, wallet providing HAHA.
Please put my car in your "Ford Fanatic", just kidding, list of e-mailed photos of cars, and hope to hear from you soon. I already belong to the Fairlane Club of America. Fred Munao"
Thanks for the pictures and story Fred. What a deal, $2500? You run into any more deals like that, call me!! As for "Ford Fanatics", I wouldn't want it any other way.......