The following comes from Gray and Corrie Baker. Gary and Corrie write "Would like to add 2 of our cars to your guest pictures section. The 1st one is our Cale Yarborought Spoiler ll that we restored a couple of years ago and the one right next to it is our 69' Torino GT that was restored by us the year before we did the CY special. Both cars have the 351 M code engines and are driven to most shows. Thanks,
Owners: Gary and Corrie Baker"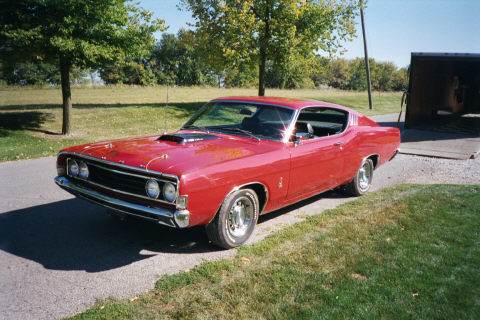 "Heres a pic of our 69' Fairlane Cobra to ad with our cyclone and gt cars on you guest section.
Its a 69 Fairlane Cobra. Matching numbers 428cj with a 4 spd. tranny. 3;50 nodular posi. Its been with me since 86' with a 2 yr. stint with a different owner back in 99' and 00'. I've got here back now and it looks good with the other cars. Owners: Gary and Corrie Baker"
Thanks guys, the cars look very sweet! What a set!!!!!