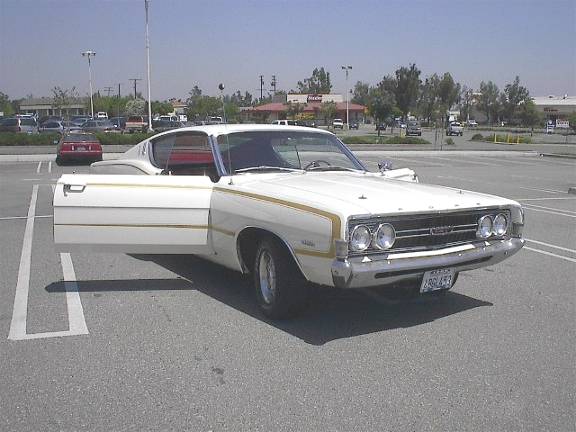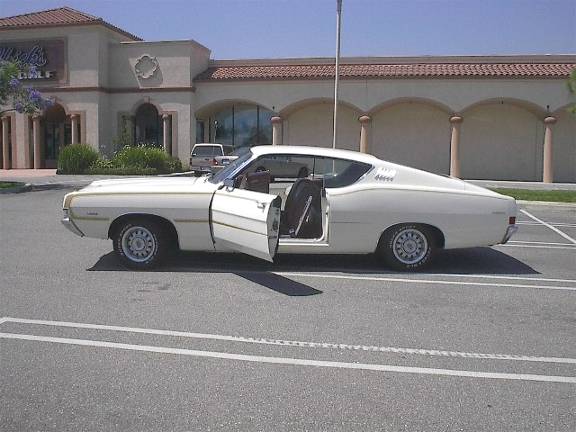 "Greetings from Iraq
Hi Mike! One of my fellow soldier friends, Jeremey Mcleod, serving with me here in Iraq turned me on to your website. His car photos are posted at your site. I have a few photos with me of my 68 Torino GT fastback 390 with me that I have included here. I have owned the car since 1991. I am the fourth owner and it has always been owned in San Bernardino County, Southern California. I have all the original paperwork on the car to include the sales receipt and the plastic card (looks like a credit card) which has the data of the car on it. The engine has been rebuilt with a Crane racing cam. The car has been repainted with the color code for the car – Wimbelton white and the interior redone in the original red/maroon colors. The interior is complete save the center console and front seat covers which I will replace when I get home. I will also be replacing the leaf springs and front steering bushings as it rides a little low and has some play in the steering. I am also looking for a fiberglass hood with air dam. Do you have any suggestions for locating one?
V/R,
MAJ Gary E. Jozens
42nd Infantry Division, Engineer Bde
Ministry Coordinator for Transportation & Communications
FOB Danger, Tikrit"