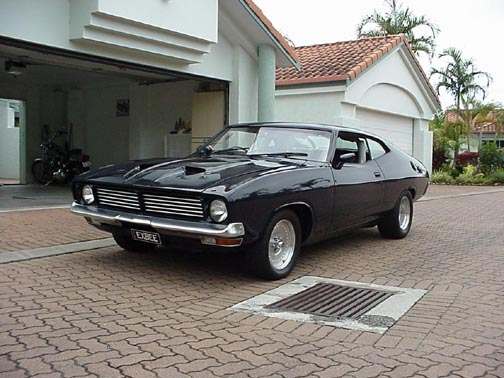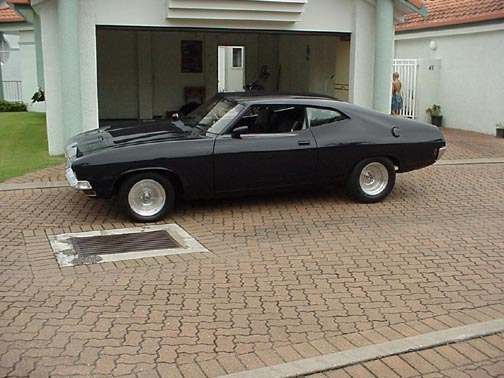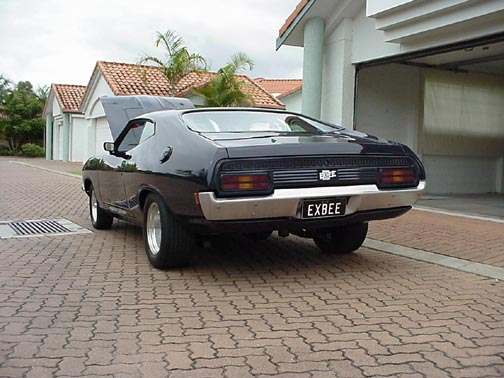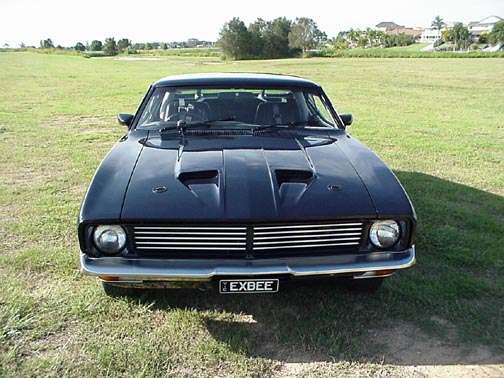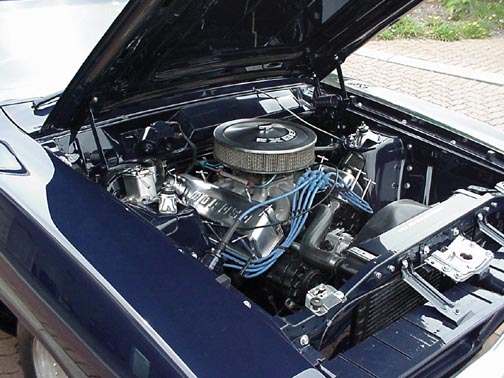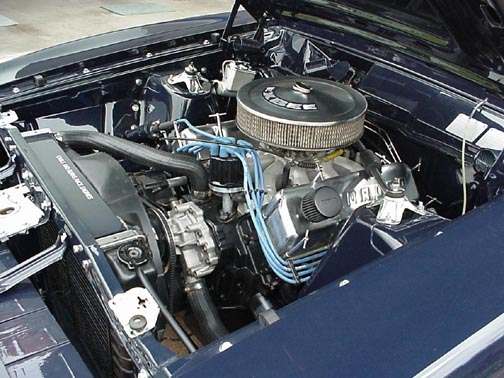 The following was sent to me by Howard Nesson of Gold Coast, Qld, AUSTRALIA. What can I say but read, look, and enjoy!! Howard writes.....
EXBEE – 1974 XB Fairmont Hardtop
this vehicle was purchased new in September 1974 by my father
Engine : 351 Cleveland. Built by Shane Cable and Athol Burns at Cable and Burns Race Engines in Melbourne.
Modifications : - 4V Closed Chamber Heads modified & with inlet and
Exhaust plates fitted, Harland Sharp Roller Rockers
- Seliba Solid grind cam; duration - yeah, lift – very big
- Smith Bros 3/8 Moly Pushrods, Moroso Guideplates
- Mellings hi volume oil pump, 6.5 litre winged sump with
crank scraper, windage tray,
- 4MA Nodular Iron Crank, with Fluidamper
- Venolia Forged Flat Top pistons, converted to fully floating, modified 351 conrods, Boss 351 rodbolts.
- 800 Holley modified, Holley Strip Dominator manifold;
running on 100% Avgas
- MSD 7AL-2 ignition system with Procomp Electronic
distributor, Blaster 3 coil and 7200 rpm rev limiter.
Gearbox : - Ford 4 speed Toploader with Hurst Indy shifter
- Les Heintz modified ET Racing 11" Clutch
Diff : - H. R. W. Nodular iron diff casing,
- Trac Loc Detroit Locker, Aluminium pinion support,
- Genuine Ford 4.11 gears,
- Summers Bros 31 spline Axles.
Body : - Paint colour : Mercedes 'Midnite blue' by
A. E. Automotive, Burwood, Melbourne
- Chromework : Satin Chrome
- Bodyshell, complete undercarriage, suspension, front
end and diff, completely baremetalled and file finished
- All of the above (incl brakes, leaf & coil springs) painted
body colour. All bolts/nuts satin chrome or zinc plated
- All mouldings, brackets and engine bay in body color
- Hidden windscreen washers, wiring, and heating
E
XB
EE
History of XB Fairmont Coupe -

"EXBEE"
Owned by Howard Nessen
1974….
Ben Nessen (my father) purchased the coupe new in September 1974. It was ordered as an XB Fairmont Coupe with GS Rally Pack, Red Pepper, Black vinyl roof, deleted stripes. It was a 302 Cleveland, T bar Auto, Black Cloth Inserts on Black vinyl, air-conditioning and power steering.
1981….
I took possession of the car and immediately lowered it and put new wheels and tyres on.
1982….
Car was rubbed down, stripped and had the vinyl roof removed. It was repainted by Shane Cable (yes!) in Red Pepper. Shane also fitted a 600 Holley, Performer manifold and Scorcher twin point dissy.
Car run over Ľ mile to a best of 15.8
1983…..
Power steering removed and manual GT steering installed.
1984….
8" diff removed and 9" XA GT diff installed with 3.55:1 gears.
Car run over Ľ mile to a best of 14.7.
1985…..
Auto removed and 4 speed Toploader installed. Sig Erson cam installed and airconditioning removed.
1986-89…. CAR OFF THE ROAD
Engine pulled. New 351 Block and 4V heads purchased and built by Shane Cable. Venolia Forged Flat-Top pistons converted to Fully Floating, Crane F246 Cam, Holley Strip Dominator, 800 Holley DP, recurved Scorcher, 4.86:1 Richmond gears. Fiberglass front and rear bumpers installed and total heating system removed.
Car run over Ľ mile to a best of 12.14 sec @ 114 mph. (114 mph indicative of better than 12 sec time)
1991….
First and only accident in car. Run into light pole at around 60 kph. Damage to total front end, floor pan, engine and gearbox. Decision made to rebuild car entirely.
1991-93…. CAR REBUILT
The Concept – The decision was made to change the car's looks and colour. Renowned graphics artist Rowan Day came up with a total concept for the new look car to be called "EXBEE". Car was to have a new graphic logo, new colour and was only to resemble original car in the vaguest of ways.
Rowan's concept was for a complete colour change to Mercedes Midnight Blue with the whole car, floor pan, suspension and running gear painted in this colour and some selected exterior and engine bay components to be "satin chromed" to match the original Centerline wheels. The concept drawings showed an exterior of satin chrome bumpers and grille (tubes) with all moulds, wipers etc., to be painted body colour. The engine bay was to be highlighted by a sprinkling of satin chrome with the remainder to be painted blue. The interior was to remain stock as it was in exceptional condition.
In essence, the car was to be Midnight Blue and Satin Chrome with the satin being a stark contrast to the Blue. The "EXBEE" logo was designed and appears on the back panel, air cleaner and spare wheel cover.
The Rebuild – After two very average attempts at the rebuild by two (supposedly) top panel shops, who coincidentally have both since gone bust, the mostly completed shell and hang on panels were handed to Tony and Elio of A.E. Automotive of Burwood, Victoria. Tony and Elio adopted EXBEE as their own and over a 18 month period, restripped all the hang on panels, painted the floor pan, all suspension, including all springs, shocks and front end in Mercedes Midnight Blue Dulux Two-pack. The level of detail went to painted items such as front guard brackets and internal panels that you cannot see, wipers, moulds, coil, engine mounts, brake drums and disc brakes. All nuts, bolts and screws are satin chrome (if seen) and zinc plated if hidden.
The 351C was rebuilt by Cable and Burns Race Engines with a Herbert Roller Cam with 280 duration and 690 lift, triple valve springs, heavily modified 4V Closed chamber Heads with Exhaust and intake Port Plates (which effectively make it a Hi Port). Shane and Athol dynoed this engine at Warlord engines, where on the initial run, it pulled 497hp at 6200 rpm, and 421 ft/lb of torque at 5200 rpm, before bending two pushrods.
Due to the lift of the Roller and the subsequent heavy spring pressure of the triple valve springs, this happened again, before a call to a ProMod racer mate in San Francisco who organised some Shane Cable specified "Smith Bros" 3/8th Funny car pushrods.
Based on the figures off the dyno at 6200 rpm, Shane conservatively estimated that at 7200rpm, the 351 would pull around 510 hp. The engine and all running gear were installed by Elio and Howard. All detailing work was done by Elio.
In 1995, the car was completed and whilst Tony, Elio and Howard were happy with the final result, and the total paintjob looked incredible, the unknown was the shell that had been supposedly been bare metalled by the prior two "master craftsmen". At the same time, a divorce went through and due to a shift of suburbs, the car didn't see much driving.
October 1997- June 1999…. REBUILD No. 2
In October '97, with a mere 1400 kms on the Speedo, a roller lifter seized and (luckily) only took off a cam lobe. Shane Cable, however decided that the loose metal had to have gone somewhere and insisted on pulling the motor. The car was towed back to its second home at A.E. Automotive, where Elio pulled the engine and Shane took it away for another rebuild.
The Engine
Shane and Athol's tear down revealed no damage other than the cam and almost perfect conditions everywhere else. The decision was made to go back to a Solid cam, but one that gave more low end grunt than the Roller. Even though the Roller had pulled 500+hp,
the grunt down low was not felt to be "earth shattering", so a call to Charlie Seliba and Shane's special grind was made. It has around 250 duration and 600 lift. Shane also felt that the weak link was the ignition and the decision was made to dice the twin point and go electronic. A monster MSD 7AL-2, originally destined for the Cable and Burns Race Camaro, was installed under the dash by Rod Cable together with a Procomp Electronic Billet Aluminium Distributor and a MSD Blaster 3 Coil. The Pacemaker Headers were sent to HPC and ceramic coated black. Finally, as Shane firmly believes in more compression, the heads were milled to give a genuine static 11.8:1 comp and additional minor mod works were done to the intake manifold and ports. The motor was reinstalled by Elio and test driven. The results were sensational with the description by Shane Cable as being "scary"……..
Shane believes that based on the car's previous performance on the Ľ mile with a 425 hp engine, and the Roller Cams performance on the dyno, the 3400 lb. Falcon with this engine, should easily pull a mid-11 sec time at around 118-122 mph.
The Diff
Due to years of drag racing behind a 4 speed, the suggestion was made to check the condition of the diff. The 28 spline axles were found to have over 5mm of twist and being an LSD, a call to ProDiffs in Fremont, California and the following new parts were ordered and picked up on a US visit :
· New H.R.W. Nodular iron carrier
· New Aluminium Pinion Support
· New Trac-Lok 31 spline Detroit locker
· New 31 spline Summers Bros axles
The Second Rebuild
Whilst EXBEE was at Burwood, awaiting the engine, a discovery was made of an imperfection in the paint. Further inspection was made by Tony only to discover that the shell had to be bare metalled again. The car was stripped of all hang-ons and interior.
Upon bare metalling the shell, it was found that not only had the second "master craftsman" not prepared the shell properly, but the rear panel, the door jambs and other areas had never been bare metalled. This lack of preparation was an obvious sign of why these two "maestros" are now out of business. Tony decided that the only way to be truly sure, was to bare metal the hang-on panels that had not been done originally by A.E. Automotive.
This meant bare metalling of the entire body shell, both doors, and the right hand front guard. Tony then decided that to do the car properly was to rub down all other existing external panels and repaint the entire car. The car now looks a slightly "bluer" colour, which we called (jokingly), "A.E. Automotive Midnite Blue" and looks absolutely sensational. Compared to the previous paintwork (which was show quality), the difference is incredible.
The Interior
During this rebuild, it was decided that whilst the original interior was in great condition, a "retro" look with a reference to the satin and blue exterior, would be different. The door and side panel trims were redone by Reservoir Motor Trimmers in Black with a silver flash, and the Owner built polished aluminium Roll Cage was covered in silver padding. A reconditioned genuine XT GT steering wheel was purchased and matching walnut trim was added to the console and glove box lid. The pioneer stereo, two speakers and aerial were all installed inside the glove box to give a totally concealed look to the interior.
Details and other Interesting Items
During this rebuild, it was decided to go further with detail and try to prove that a 500 horsepower car can be made to be (basically) roadworthy. Whilst the front guards were off, a Honda Civic windscreen washer bag was installed inside the front inner panels, with concealed tubing up to concealed washer jets. Although the heating system was previously removed (to do away with the ugly heater hoses), the decision was made that a demister needed to be installed to comply with roadworthy regs. A Toyota Corolla heater was installed directly on to the base of the existing Y-Tube demister section and hooked up to the original switches. The heater now blows warm air onto the windscreen without the need for heater hoses.
During the rebuild, other items were redetailed. All brake lines were hand made and then sanded with coarse dry sandpaper and clear laquered to give a billet look. The Brake Master Cylinder and Clutch Master Cylinder were removed, hand filed, all casting marks removed and then sanded to match the billet look. The EXBEE logo was added to the aircleaner similar in style to the original GT transfer of the original aircleaner. The original ID plates were removed and replaced with brass plates that were hand engraved
and then satin chrome plated. All other components such as door strikers, locks and hinges were satin chrome plated.
In the boot, a new aluminium fuel tank was made and the boot hand trimmed in black carpet by Reservoir Motor Trimmers.
The Number Plate…. A matching number plate was also obtained as a present from a good mate in Northern California. The plate which reads "XB COUPE" was purchased and run on Larry Bowen's partner's Mitsubishi Starion for 12 months and then sent to Howard as a present. Larry (in California) was constantly asked by people what an XB Coupe was !!
Many thanks to :
· Tony and Elio at A.E. Automotive, Burwood, Victoria for patience, determination and friendship over the past 5 years.
· Shane and Athol at Cable and Burns Race Engines for friendship and assistance over the past 22 years.
· Rod Cable for all electrical work.
· Bruno "Chrysler Boy" and Leo at A.E. Automotive for paint and reassembly during this rebuild.
Rebuild No. 4 – completed February 1999
Thanks to …………
·

Cable and Burns Race Engines, Frankston, Melbourne
·

A.E. Automotive, Burwood, Melbourne
·

Racing Edge, Southport
·

Autobahn, Burleigh
Cost to date …… $think of a number and double it !!