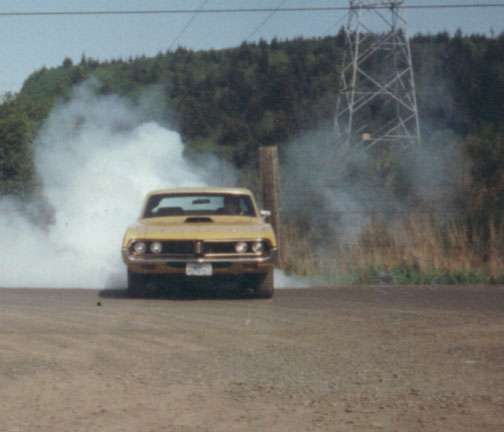 The following comes from james Marshall. James writes "This is my '71 Torino coupe. It was a 302 car with a two barrel cleveland. I bought it for $200.00 eight years ago, basically stripped. It had no motor, tranny, or rearend. During its initial construction I invested $1200.00 including purchase price and ran 14.001 at 103mph on street tires and a single burner 3.25 rear. The car got faster through highschool, but I never ran it again, and through college I fixed everything with duct tape and tie-wire. When I was in my third year of college the motor "failed" and I parked it, so after four years of storage in a barn, I bought a house with a shop and brought it home. Over the next year its going to be brought back to life. I have determined that the cause of the engine failure was a pushrod shaped like a lightening bolt. It has a 429 and C6 from a '71 Thunderbird, Hookers, Holley, B&M, a shaker, 7" narrowed rearend(I'm a machinist) with a 3.55 traclock, weld draglights, and other little things. I have a 460 and C6 from a '71 Lincoln and a set of CobraJet heads that is in the long term plan. I really love this car.
James Marshall
The picture was taken for a highschool graduation slideshow in 1994. I'm sitting sideways in the street pointed into a gravel parking lot."
Thanks James, I love those "action" shots! I look forward to the "new and improved" version. I have also put a copy of this picture on the "Burnouts" page!