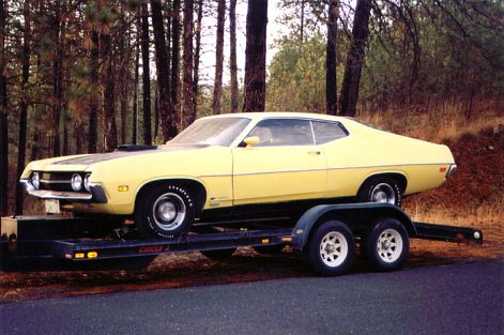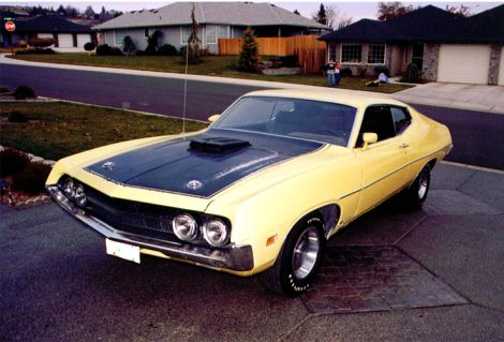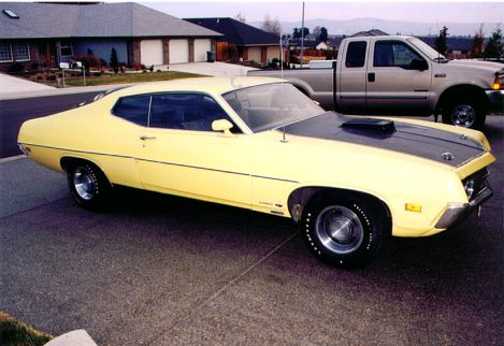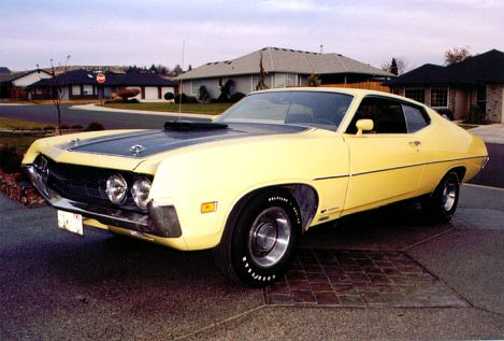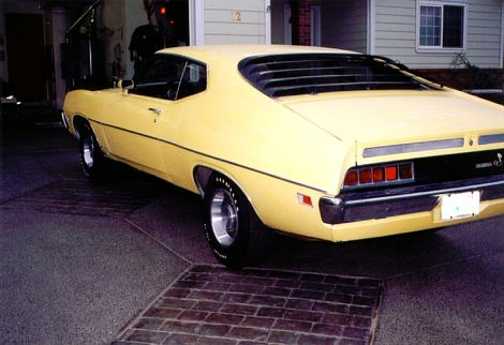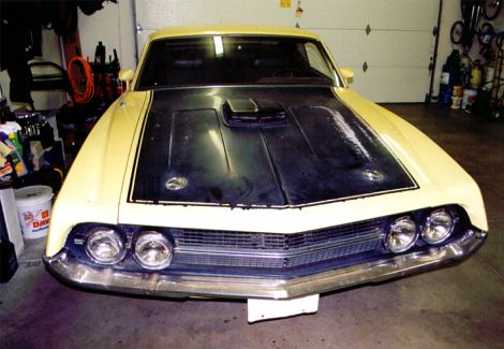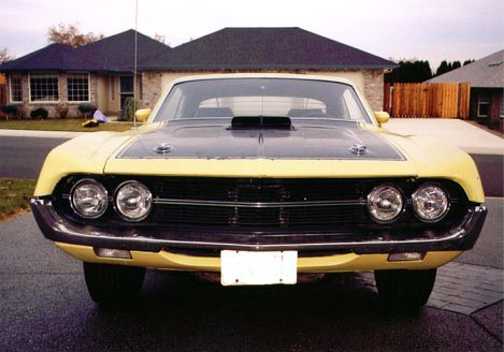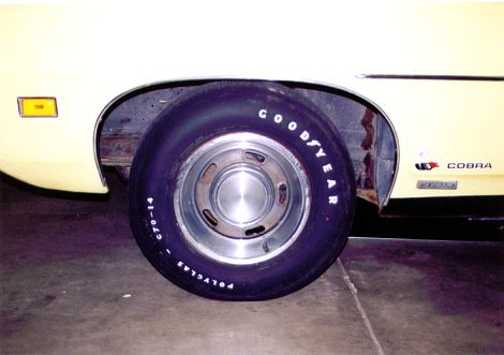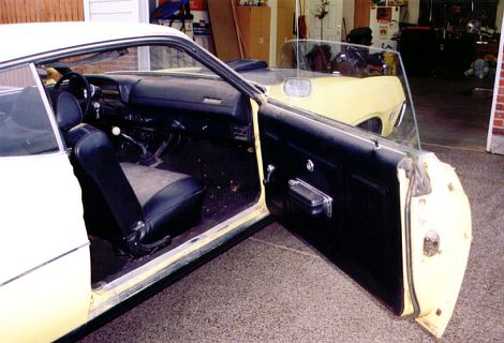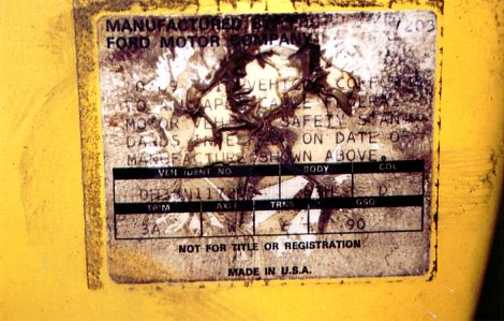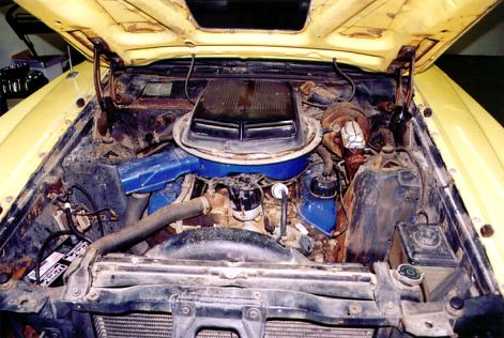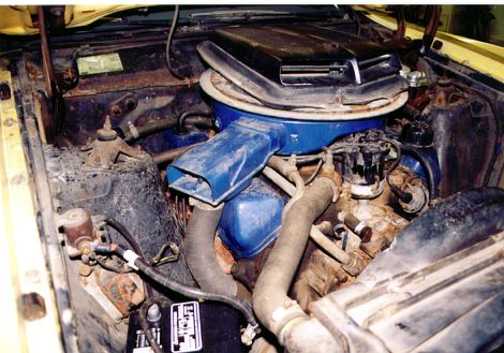 The following comes from Jeff Pfaff. Jeff writes "Hi Mike, my name is Jeff Pfaff and you answered my question on the 385 forum about "help with cobra id". I have ordered the Marti report and I just got the pictures back so I thought I would send them to you. The DSO had me confused and I stopped by the Ford dealer and I was told that DSO of 90 was an "export". I won't know until the report arrives. Some of the weird things this car has, doesn't coincide with every thing I have been looking at, so here is a list of things I have found so far. N-code engine, 3/8 single fuel line to the fuel pump and to the tank, 4:30 rear end, Shaker hood, no p/s, staggered shocks, close ratio 4-sp., and no engine oil cooler. If you look closely at the door tag picture you can see the build date of 10/69 and the trans-6, axle-W, DSO-90. The guy I bought it from has had it since 1974 and as you can see, it has the original tires and wheels (he stored them in his dad's attic from 1974 until I picked it up last week. Have you ever seen this combo before?
As I said, I can't wait until the Marti report arrives to verify this.
Thanks for the information and your time, Jeff Pfaff"
Thanks Jeff, definitely a lot of weird things there but great car! Supposedly (at least to everything I have ever seen or read), the shaker was not available on the N-code car. But the "W" axle code was not available either with the N code but yours shows it plain as day! I would love to see what the Marti report says!
Update 8-8-2003 - "Hi guys, just a quick note to let you know some information I just got on my cobra. To refresh your memory.... I have the '70 N-code with 4:30's. Today I spoke with Kevin Marti and he gave me a boat load of information on the car. It was scheduled to go to England and it appears it never did. The door tag for an EXPORT car should show "THIS VEHICLE BUILT FOR EXPORT" Mine has the US door tag which K.M says that the order was probably changed mid stream because the GI in England was shipped back to the states dead or alive, and at the time in 1970, Ford paid for the shipping if you were in the service. The car was probably left on the dock in Newark N.J until the GI arrived and then Ford had it shipped or driven to where his new location was. the order shows the car was sold to "FORD MOTOR COMPANY FIGESO". FIGESO is Ford International General Export Sales Office. All export cars were sold to this division of Ford so that they could basically take care of the "exchange rate" of the dollars in the country it was going to. This car as K.M. put it, is one of a group of mistake cars for 1970. This car should have never been built with the N-code. The car has no P/S, one fuel line and 4:30's, the only thing missing is the SCJ and oil cooler.
ALL '70 Torinos built prior to Mid Nov. 1969 did NOT have Detroit lockers, instead they had the traction lock axle.
Another possibility could have been that in 1970 a dealer could order a car for export and then go to the dock and pick it up to escape paying for the federal excise tax. These cars were only produced for 30 to 90 days before Ford figured out that they had a problem with the engine and gear combination. K.M. seems to think that there were less than 50 produced and I am having him produce that figure for me ( I'll let you know what it is when I get it).
He strongly recommended getting the Eminger report because it might possibly show the change of order from export to the US and it will have hand written note on the invoice of what or who changed it. The reason he called me is that basically he did not believe I have this car. I took pictures of the door tag and the fender tags and sent them to him. After he received them he said, "well you do have the real thing, and this is the first car that I have seen with an export DSO and a US door tag. WHEW! Sorry about the long e-mail! I'll keep you informed as I get more information. Thanks for all the help you guys give! Good Luck, Jeff"
8-13-2003 - Hey, Just a note to let you know. According to Marti Autoworks, there were 25 N-coded 4speeds with 4:30's built in 1970 and they were all traction-loc differentials. Now just as soon as I get the report from Lois, I'll be ready to start tearing it down some more. Talk to you soon, JP