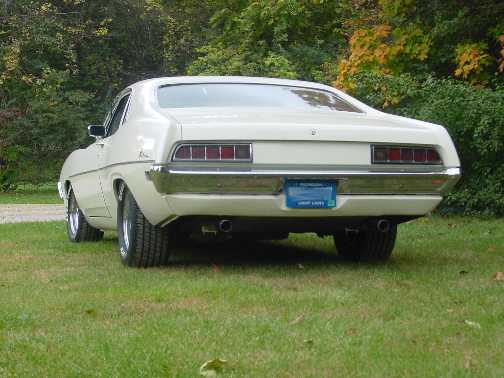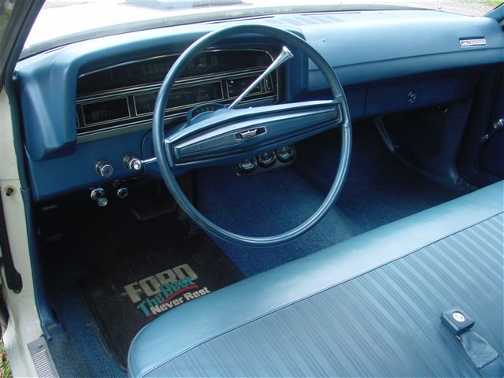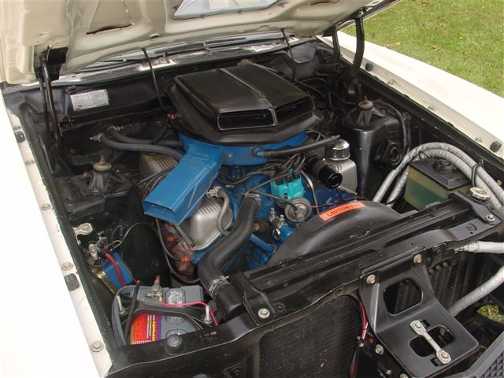 "Mike, Sending you some photos of the 1970 1/2 Falcon that I recently purchased. It is a 42K car. It is decked out with the 429 SCJ Drag Pack and C-6. I understand that there were only 38 Falcons with this combination. To help it motor down the highway a Gear Vendor overdrive unit was installed. It attaches to the end of the transmission and makes that screaming 4:30 into a cruising friendly 3:40. The whole operation is automatic. Just slam the pedal to the floor and the 4:30 ratio is in play. Wind through the gears and the OD kicks in and you keep pulling. The car is running Flowmasters. The sound of this car is truly unbelievable.
Per the Marti Standard report it came with body side moldings, power steering, am radio, magnum's, tachometer. Paint Code M - White and interior 2B - Medium Blue Vinyl Bench. Pretty spartan but yet single purpose - go fast. That it does without a problem. I have followed this car since 1985. When it hit the market I went to see the car, after one ride it was all over.
The plans for the car are to return it to it's original glory. There was a quick repaint in the history for sure, it shows. A complete strip and repaint is in the plan. A few items are close but not correct. Those will be corrected. I'll keep you updated as things progress.
Jerry Ostalecki, Michigan"
Jerry's Home Movies (click on the cars below)