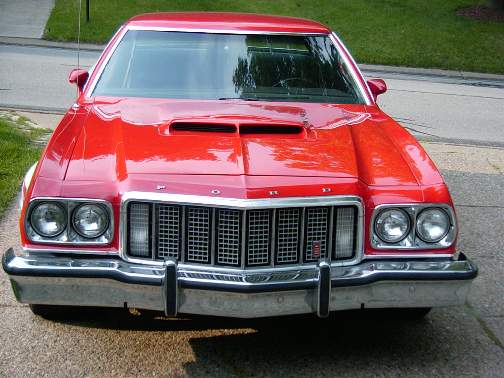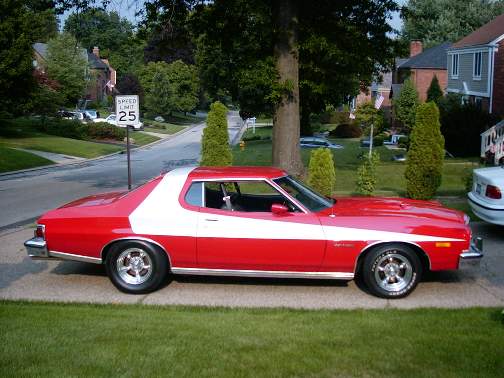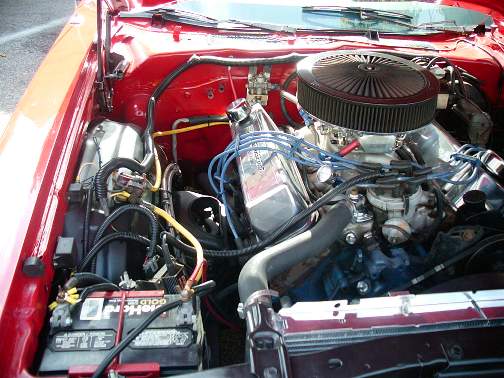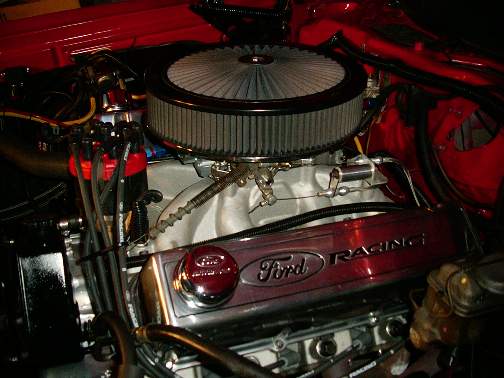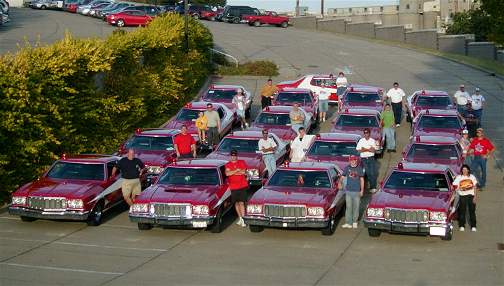 "Excellent Site, amazing to see so many cool Torinos in one place!
Enclosed are a few pictures of my 1976 Starsky and Hutch Gran Torino (dealer painted, not factory). Iíve owned it since I was 15, drove it throughout High School until I dropped a valve in the original 351..
The car has most all power acc, including cruise, everything except seats and A/C.. Pic #1 shows the hood which is a graft of a 1972 GT hood and the stock 1976 done by Dave Mathews Auto Body in PA, Pic #2 shows the fit of the 15x8 AR Torque Thrust IIís with 265/50 front and 275/60 rear tires. The 10:1, D3 headed, small hyd cammed 466 in pictures #3 and #4 was in place from summer 1992 through fall 2004 and ran as fast as 13.05@105.6 with a stock stall conv this fall (2.05 60í time). Picture # 5 is the new SCJ headed, solid cammed, Offy intaked, 10.75:1 compression 545, (thanks Adney Brown, Scott Johnston, George Thomas, and the rest of the Network 54 385 series site).. Returning from the 466 are the Howe AL radiator, Lincoln Mark VIII fan, 160A PA Performance Alternator, Lokar cables, Demon 850, the Hooker Super Comps, 3Ē Dr Gas X pipe, 3Ē Borla XR1ís, and 3Ē mandrel tails. Along with the extra power, Iíve dropped about 300 lbs off the previously portly 4400 lbs through replacing much steel and cast iron with aluminum.. Iím not ambitious, I just want a mid 11 so the sports cars give it some respectÖ.. Pittsburgh Raceway Park opens in April and I canít waitÖ...
The last picture was at the Evansville, IN Starsky and Hutch reunion in 2004, world record attendance, great folks (thanks to John Quirk for making the reunions possible).
Thanks again for this site Mike, itís like one giant Midsize Ford car show!!
(if I could add another car to the stable, it would be an all black í70 Cobra with a shaker, a stroker and a 4 spd., wish they were affordable)
Jim Williams"