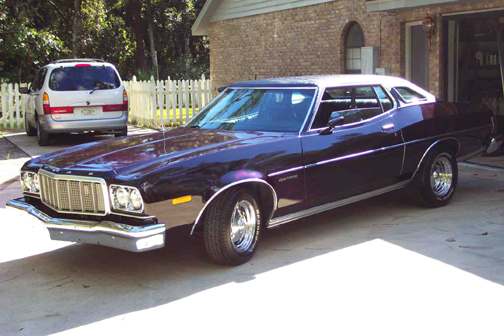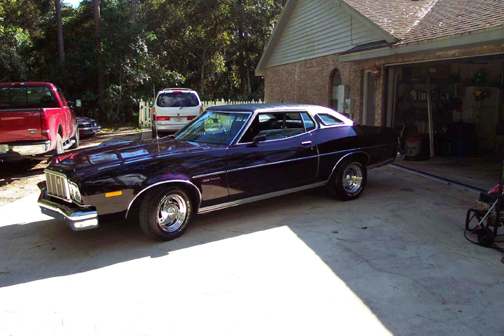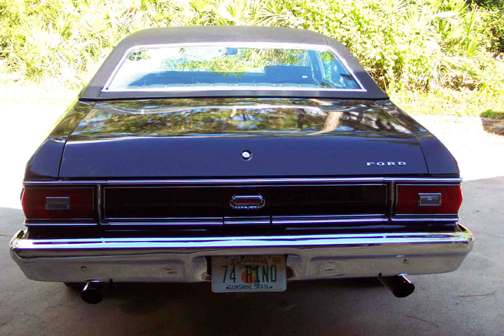 The following comes from Joe Morales of Deltona, Florida. Joe writes "Hi Mike, I have been looking at your web site for sometime while I completed the restoration of my 1974 Ford Gran Torino.
I purchased my 74 Gran Torino earlier this year from a lady who had it stored under a tree in the woods. The car was all original down to the olive green paint and olive green interior. I knew what I wanted the car to look like but I am handicapped and cannot do most of the heavy extensive restoration process on my own, so with the help of a race car driver from Gainesville Florida my dream of getting a car restored is almost complete. I was able to do some of the work on the lighter pieces but most of the car was replaced with either NOS parts or higher quality used parts that were difficult to find at times.
I do not know how it compares to other restoration projects and the car is not totally complete as of yet but it is very close and thought I would share some of the pictures with you.
The specs on the car are listed below and the rebuilt engine has about 8 miles on it so far. Thanks so much for hosting such an informative site and any feedback on the restoration process I have had completed to this date would be greatly appreciated. My next project is a 1973 Ford Gran Torino Sport Fastback that I should be starting on as the new year gets closer.
Thank so much again and here are the specs on the car.
All the best to you,
Joe Morales Deltona, Florida"
"74 Ford Gran Torino Specifications
Body:
Type – Ford Gran Torino 2 Door Vinyl Top D65 Body Code
Material – Steel
Year/Color – 1974 Candy Apple Purple
Chassis:
Construction – Steel Box Frame
Steering – Power Conventional
Suspension:
Front – Coil Springs
Rear – Coil Springs
Brakes:
Front – Disc
Rear – Drum
Tires:
Front – 15 x 6 P215/65R-15 BF Goodrich Radial T/A
Rear - 15 x 8 P255/60R-15 BF Goodrich Radial T/A
Wheels:
Front - 15 x 6 Centerline Trigon #802 Billet Wheels
Rear - 15 x 8 Centerline Trigon #802 Billet Wheels
Engine:
Year/Type – 1974 351 Windsor
Displacement – 356 cubic inch
Bore x Stroke – 3.50 x 4 ¼ inch
Compression Ratio – 9 ½ to 1
Horsepower – 370 Approx.
Camshaft – 512 x 282
Lifter Type – Hydraulic
Cylinder Heads – 194 x 160 valves (race ready)
Fuel System – Gas
Intake Manifold – Edelbrock
Ignition System – Points Ford Stock
Cooling System – ¾ radiator with electrical fan
Exhaust System – 2 ½ inch Flowmasters Z chambered
Transmission:
Year/Type – C6 1975
Torque Converter – 2000 RPM Stall
Shifter – Stock
Rear Axle:
Year/Type – 1974 Ford 9" 3.50 Gear
Ratio – 3.50 Gear
Axles – Stock 28 Spline
Interior:
Seats – 74 Gran Torino Buckets Reupholstered in Front/ NOS 1974 Gran Torino Rear
Dash – Stock
Upholstery/Color – Black Leather
Steering Wheel – 2 spoke 1974 Stock Gran Torino
Carpet/Color – Black
Gauges – 1974 Gran Torino Sport Gauge Package
Stereo – NOS Ford AM Radio
Paint:
Color/Type – Dupont Motors Candy Apple Purple
Ghost Flames – Silver flex based ghost flames
Process – Told it is a secret by the painter!
Thanks Joe, truly a beautiful car and something to be very proud of!!! Thanks...