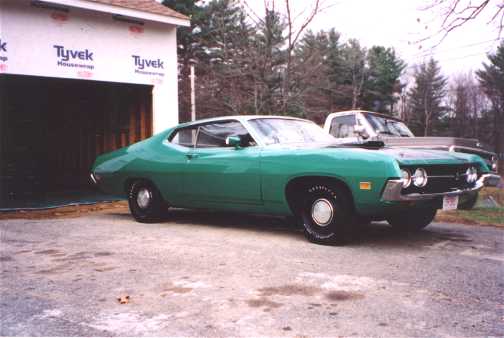 1971 Torino Cobra. This car will be famous next year. Ford will be 100 years old next year and "Mustang and Fords" is using it in their magazine's 100 Year Edition.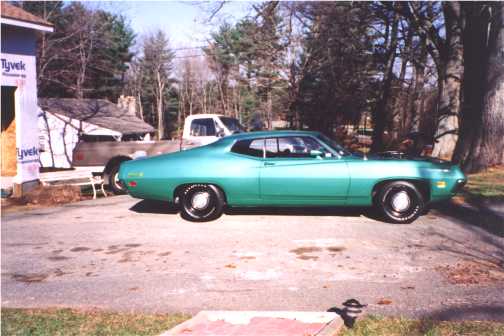 1971 Cobra Jet, original color "Grabber Green" metallic Z code. Column shift, C-6, bench seat, black mint interior. 408 with paint code, 198 with paint and trim code, 199 with engine and trans code.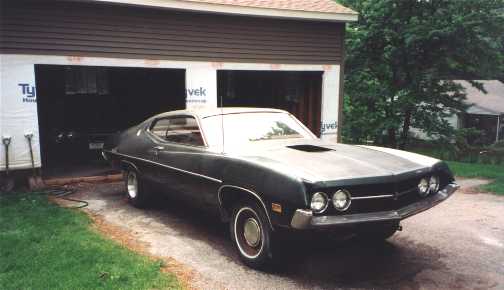 New 1971 Cobra, stored since 1982, 51,000 original miles, #'s matching CJ 429, 4 speed and 3.25 post. All original drag car. Solid including rev limiter. MNotor was out of the car. 293 with this paint code (Dark Metallic Green), 72 with paint/trim code (ginder interior), 117 with engine and trans code. Note: no sport mirrors, tow bar.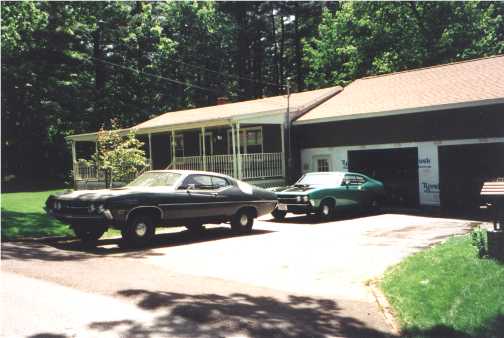 Pair of Cobras...ssssssssssssssss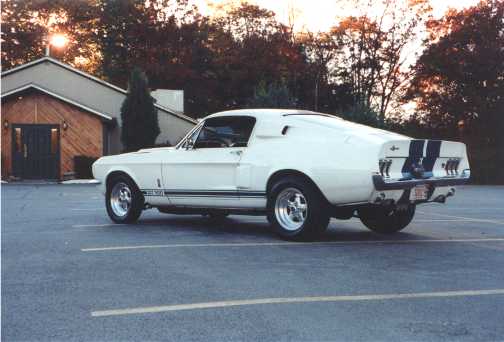 1967 GT 500 clone. 429 stuffed in the fenders, 11.90 fast. Magazine feature car anywhere between April to Sept 2003, "Mustangs and Fast Fords"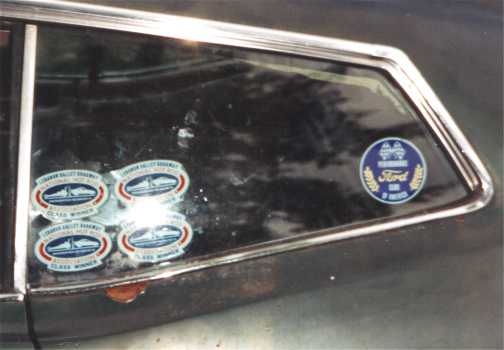 Original class winner drag decals, mid to late seventies.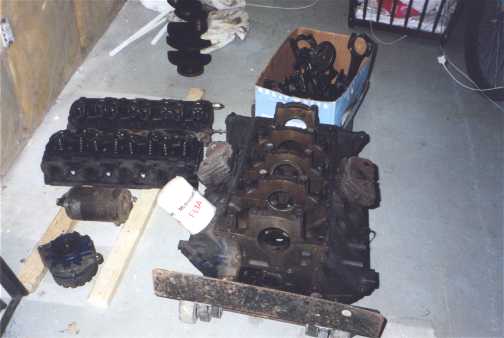 429 CJ motor. Note 4 bolt early 71 car. This car with original 71 stamped alt and starter... unbelievable!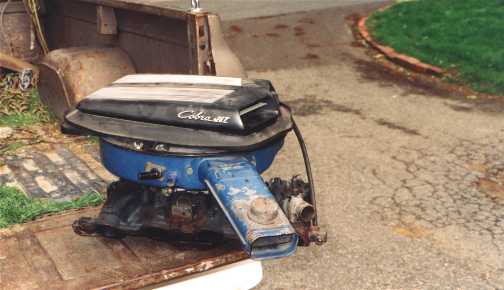 Dealer installed shaker with original Ford stamped rubber drain hose in mint condition. Note the 351 snorkle. Maybe all the dealer had at the time of add-on. Still has vacuum canister inside shaker and works mint. Unreal huh? All for $3500! This is the ultimate Torino find!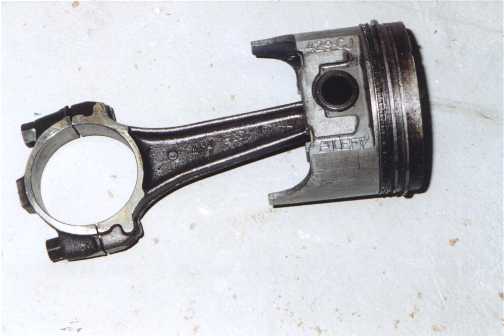 CJ piston, mint condition!
These pictures come from John Bricault of Charlton, Mass. John gave the details for the pictures and also writes "Hey Mike, my name is John Bricault and I got a couple of Cobras for yah. But first I would need your address so I could send some pics for my scanner is down. My first one is a 71 cobra 429 cj . The car was restored years ago by my father and I. The color is the rare grabber green metallic one year only color. It has a c-6 trans and an added 4.30 posi running on Goodyear Polyglas with dog dish hubcaps (sleeper affect). I do have two mint original build sheets and also Marti Auto Report. Car was sold in Virginia new. This last august this Torino and my 67 GT500clone with a brutal 429cj motor in it was photographed by Larry Jewet, chief editor from Mustang and Fords magazine. He flew up from Florida to Mass to do the photo shoot. The stories will be in their April to September issues of 2003. I cant wait! Now for my recent find. I found this car on Ebay. It was in my home state and I wrote the guy and decided to take a look at it in person. What I found was a 71 Torino cobra. Dark green metallic with a ginger interior one of 72 made in this trim. It came with are you ready, the matching numbers motor 429 cj with original pistons you name it it is also a 4 bolt motor early motor. The exhaust manifolds were mint with the factory h-pipe with ford part number still on it. It also came with the matching top loader 4 speed trans. It was one of 117 with this engine and trans combo. It was ordered with 3.25 traction lock rear still there mightI add. This car was ordered without sport mirrors (rare) and with plain rims and hubcaps. Also no power brakes. I think it was ordered for the strip. The guy also had the original rev limiter for the car, the build sheet also. It has 51000 documented miles and been sitting in a barn since 1982. It came with a title and the sellers name was on it from 1982. So I decided to look him up. He still lived at the same address so I called him (got his number from Ebay) he was so dumbfounded that I called him for he has been searching for the car for the past 8 years. He verified that he was the third owner and sold it with 28000 miles and now I mind you this car came with a shaker hood with shaker original and so mint condition rubber seal still had ford part number on it, so he told me the original owner had the dealer install the shaker complete down to the shaker hold down. This is a c-code car non shaker. So interesting story with the shaker. This car was also used as a drag car. Still has the early seventies Lebanon Valley Raceway class winner decals on the side window 5 total and the original tow bar still on car. I find it unbelievable that this car was dragged not cut up and so complete with original motor still after dragging it. This could be the ultimate Torino find. I am restoring this car now and let me tell you it is so easy this car came with original paint still on it with factory body side mouldings. It still had the original jack instruction decal on inside of trunk this is a rare piece because they don't reproduce it. It shows the staggered rear shock cover panel under the tire in the original picture the repo's do not. It still had, are you ready, the original hold down clamps on the rear back frame rail never taken off from the dealer in Kentucky still in business today I mind you. This car is so complete it scares me, interior was in good shape just needing a rug and dash, so I hope you like this story and please give me your address and I will send you some pics of all of them and you came post them on your web. And you can edit it with the info I gave you. Thanks mike, you're a good guy for having this site. Oh by the way please sit for this, I only paid 3500.00 dollars for this rare find thanks John "
Thanks John, a couple of real beauties, and the mustang ain't too shabby either!!!!! Thanks for sharing with us!