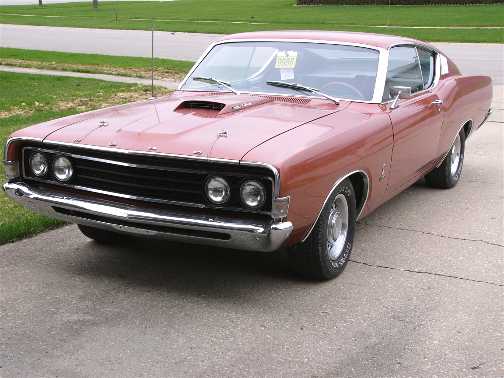 "Mike, I have been enjoying your site for about a year now and decided it was time to write and say thanks for the great work your doing to preserve the heritage of the Torino. I was through your site that I got a lead on the 1969 Torino Cobra Jet that I bought in April this year.
At age 18 I got my first car, a 1968 Torino GT, with the 335 horse 390, four speed with power steering and brakes. When the kids graduated college I got the go ahead to get a hobby car. Being of the nostalgic age I decided to get a 1968 or 1969 Torino with a 390 or larger engine.
I started looking on the Internet a year ago looking for something fitting the budget and condition I was looking for. I found mine in Michigan near Detroit from an owner who had it two years but no time to really enjoy it or work on it. He bought it from a man in South Carolina who owned it 17 years. From there the trail jumps back to Tennessee where the car was sold new in March 1969. In between is a mystery as I have not been able to identify or contact the South Carolina owner or the original owner.
It has been a real treat to have that 428 engine when people ask what is in the car. I have taken it to the local cruise nights been the only Torino every time. It has been a lot of fun working on the car and showing it with the positive feedback from people.
Thanks for all the work you are putting into Torinos and keep up the great service.
This beauty now resides near Joliet, Illinois about 40 miles southwest of Chicago.
Jon and Janet Wrench"