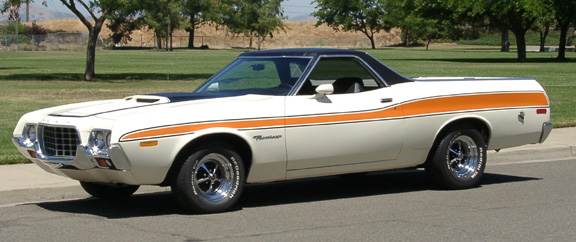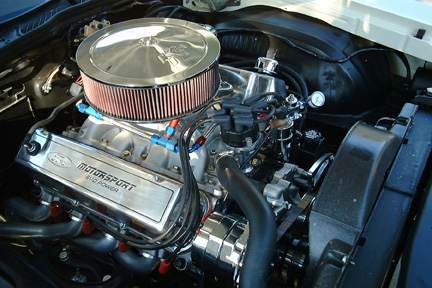 The following comes from Kent Smith. Kent writes "Mike, Found your site today. Wanted to get in on the great site!
This 72 Ranchero GT (429 w/C6) was originally bought by my dad new. I drove it in high school and parked it. 14 years later we brought it back out and started over. My friend Sam Strube did most of the dirty work and now I get to reap the benefits. We had the front end completely disassembled and started over. Now we have Ford Motor Sport 460 (486 HP), MSD Ignition, March Pulleys, 9" x 3.00 Traction-Lok (original), Hooker Headers 3" collectors with cross over, Flowmaster 40 series original tone dual 2.5" pipes, Art Carr 2500 stall converter, Magnum 500 wheels, new paint and painted stripes under clearcoat (original colors), new Auto Meter gauges placed in original GT instrument cluster, new interior, etc.
Readers can catch me on Yahoo "The Ford Torino Club" as "Ranchero1972GT"
Thanks for such a great site. Kent Smith"
• Engine: Ford Motor Sports 460 Crate Motor
– Power: 486hp
– Bore/ Stroke: 4.360" / 3.85"
– Nominal Compression Ratio: 10. 5: 1
– Cylinder Heads: CJ Aluminum
– Intake: Edelbrock Performer RPM Dual Plane
• Carb.: Speed Demon 850 4bbl Vac Secondary
• Ignition: MSD Pro Billet Dist, 6AL, & Blaster 2 Coil
• Pulleys: March Serpentine Billet Aluminum
• Rear End: 9" x 3.00 – Traction- Lok Minimum Slip
• Exhaust Headers: Hooker w/ HCT Coating
• Mufflers: Flowmaster Original 40 Series Dual 3"
w/ X- over to 2.5" exhaust
• Trans.: C6 with Art Carr 2500 Stall Converter
• Wheels: Magnum 500 - Front 15x7, Rear 15x8
• Tires: BF Goodrich – P245/ 60R, P275/ 60R
• Front End: Complete Rebuild – PST Parts
• Paint: Original Colors and Decals Newly Painted
Below a Clearcoat Finish
• A/ C- Heater: Vintage Air Gen II Super
• Gauges: Auto Meter Tach, Oil, Water, & Voltage
Meters Installed in Original Instrument Cluster
• Audio: Sony CDX4000X, Alpine MRP- F306,
Pioneer TS- C1653, Bazooka EL604, & Monster
Cable
• Vinyl Top: New
• Carpet & Headliner: New
• Seat: Original Recovered with Same Pattern
• Weather- strip/ Rubber: Some Original Restored
• Windshield/ Side/ Back Glass: New
• Seat Belts: New w/ Retract. Shoulder Harness
• Bed and Glass Molding: Fully Restored
Originals
• Right Side Mirror: Installed Interior Remote
Control
• Exterior Door Handles: New
• All Exterior Chrome Lettering: New
• Bumpers: Originals Rechromed
Owner: Kent Smith Original Owner: Ken Smith (father) Major Restoration: Sam Strube Paint: George Cantrell
72 Ranchero GT – Modifications