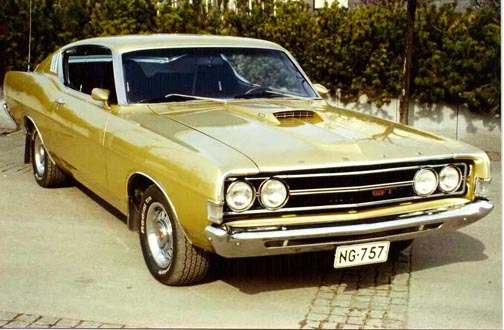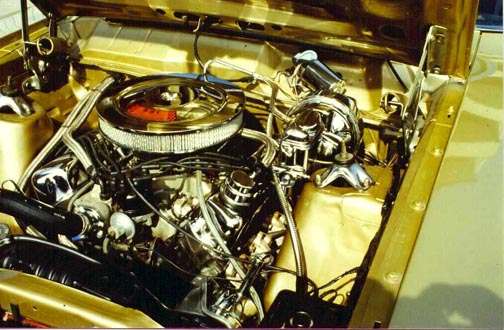 I received the following from Kimmo Kemppinen of Hyvinkaa, Finland. Kimmo writes "Hello again, Mike! I was browsing through the latest updates on your amazing site and realized that I haven't sent you any pictures of my car. I sent you some racing and burnout photos, but here's something else. This is our 1969 Torino GT SportsRoof, and the proud owners are Johanna and Kimmo Kemppinen from Hyvinkaa, Finland. It is equipped with a 351W with Edelbrock Performer and Holley 600 + FMX with a SelectShift console shifter + 9''. Lots of engine compartment components are chromed, like brake booster cylinder, power steering oil reservoir and wiper motor. Color is metal gold and interior is black with 3-spoke rim-blow steering wheel. Pictures show different seats than it has now, buckets from '68 Fairlane are already installed. One of the previous owners moved the grille backwards about two inches to get a 'Charger'-like front end, but I must say that I prefer original looks and I have the original front end pieces in my garage waiting to get installed. Also repro door panels are still waiting in their box with '69 GT hood pins. Our Torino used to be our almost-daily driver, but now it is not driven that often, sorry to say... Gas prices are way too high and with little kids you must choose more practical vehicle to your daily driver. But like everyone say: 'When I have the time to restore and drive I...'
With best regards, Kimmo Kemppinen"
Thanks Kimmo, what can I say but ...... WOW! You car is pretty much spectacular! I absolutely love that engine compartment. I also see what you mean by the recessed grill. Thanks for all your contributions to our site....