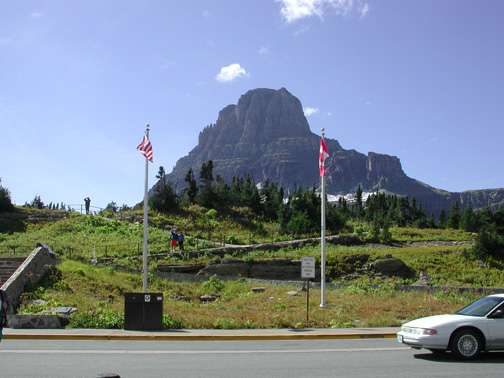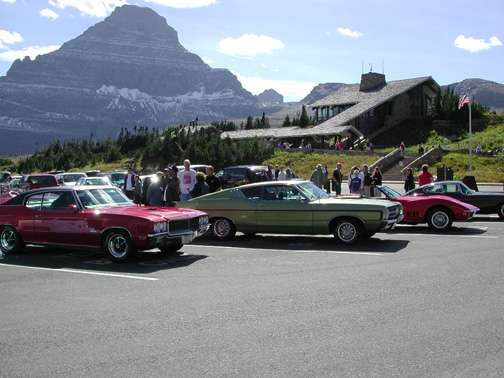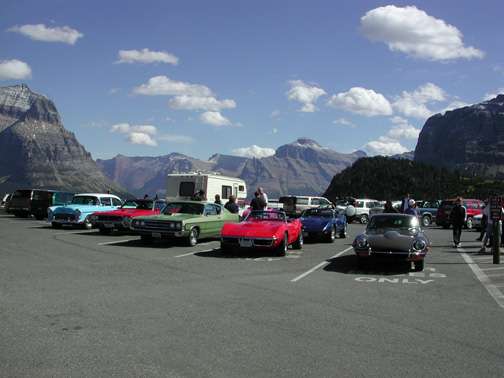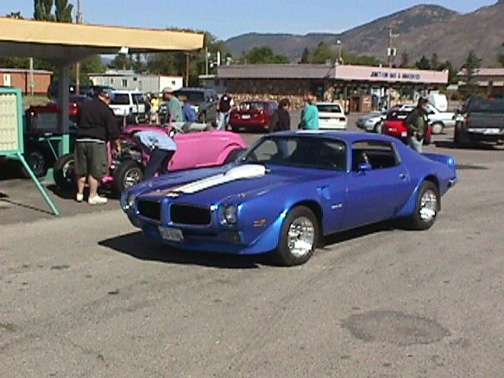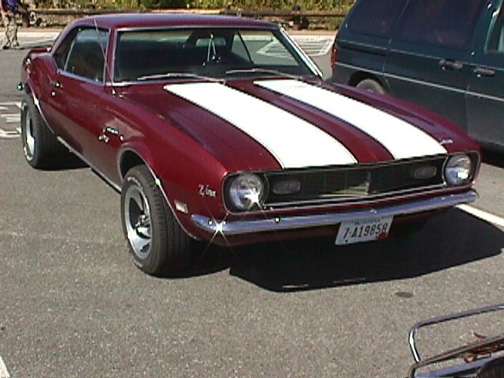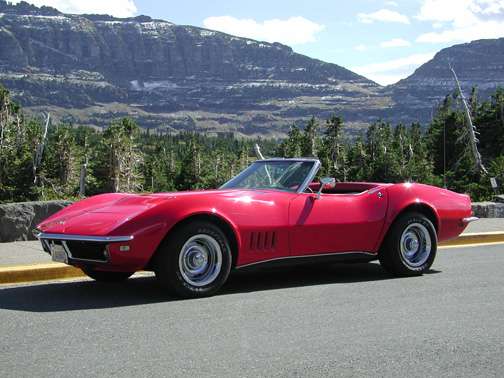 The following comes from Mark Smith, a friend in Kalispell, Montana. Mark writes "Mike, wow long time since my last note. As I have watched your site grow, and after getting your mini-meet notice knowing there was no way to make it over your way, I took your thought and organized a cruise for fellow employees at my office and our other mills and offices. Twenty cars showed up and within the next week after the cruise, 22 others called me to tell that they had not heard and to include them for next year. Hurumph! I thought more people read the company bulletin boards. Next year I will do an inter company "media blitz". We all work for Plum Creek Mfg. so I held it on Sunday September 9th and called it the Plum Crazy Sunday Drive. I had shirts made, they were a big hit. Here's a few pics. The picture of the flags held a heightened significance 2 days later. Had some pretty great company. A 70 Buick GS Stage 1, 68 427 4 spd 'Vette, 70 Jag E Type, 70 GTO Judge, 68 Camaro Z28, 28 Highboy Roadster, just to name a few. The guy with the Roadster has driven it to Kentucky, SoCal, and Arizona, (no top of course), true devotion. Because I own the only Torino in the company, I was thinking of awarding a trophy for the best looking green Torino. Just kidding. We met at a local A&W drive-in, had lunch and did a show n shine thing, and then drove to Logan Pass in Glacier National Park, an hour from the A&W. Everyone had a great time, no break-downs, beautiful day. If you and friends ever want to see Montana, let me know, GNP is spectacular, (you can bring your cars). The project I have been enslaved to for the last year and a half went into production test phase last week so my life just might become more my own.
LIFE under the Big Sky, UNBELIEVABLE! Have an excellent day. Mark Smith"
You're right Mark....Unbelievable!!!!!! Thanks!!