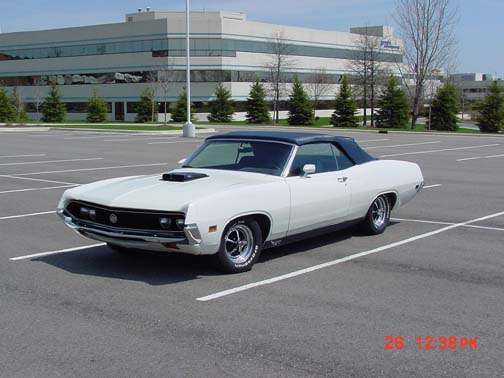 The following comes from Mark Stevens of Brighton, Michigan. Mark writes "Mike; Here goes... 1970 Torino GT Convertible w/68,000 miles from Carlisle, PA; 1983 GM pearl white w/blue top...redone two tone blue Cobra interior (seats, door panels & dash w/ribbon tach) 540 watts of boomin' Kenwood stereo with a big box o' woofers in the trunk. Magnum 500's w/spinners and BF Goodrich TA rubber all round. Rebuilt front end with big 429 Cobra power disc brakes & Wildwood propotioning valve. Grant GT steering wheel. Rare shaker ram air hood w/hide-a-way headlights.
Drivetrain: 351 Cleveland with modified 2v heads containing oversized valves, light port job and hardened seats...Crane roller rockers...High lift, medium duration Comp cam for low/mid range torque; Edelbrock performer intake w/modified Holley 750 4bbl., 9.7 to 1 forged pistons...MSD 6AL w/rev limiter set to 6000 RPM. Rebuilt C-4, 2500 stall B&M convertor w/semi-auto valve body topped with B&M ratchet shifter. 3:50 ratio, 9" factory posi rear axle. Sun super tach, water temp and oil pressure gages. Ceramic coated 1 5/8"s? headers w/3" stainless exhaust all the way back to chrome tips.
Looks great, solid & strait and driven to several shows a year; a weekend driver. Never taken to the drag strip...my guess is about mid 13's with approx. 350/400 engine HP and good low end torque for a Cleveland. Mark"
Thanks Mark, your car looks spectacular and sounds even better. I can't wait to see it at the Mini-Meet and the Woodward Cruise! Thanks......