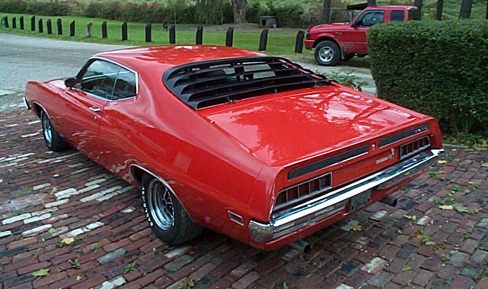 Fellow Yahoo Torino Club member Michael Curry just bought this car off Ebay. So I got a couple pictures along with an email he sent me and posted them here...."She just got dropped off the transporter tonight...I am so psyched, a little nervous becase it was an auction... met the transporter at a mall near my house (2 block, a 85 truck would never make it into my neighborhood) She looked good up there...solid straight etc, i got up and roller her off, and walked the car she has a few places a little touch up would help (like a spot where it looks like battery acid driped in a spot on the top of fender) but all in all she is very very clean, the exhaust looks first class and she has headers. When started up i was plesantly suprised the cam sounded pretty aggressive sounded mean! I drove it around the lot a little but since i was rusty with stick and all the snow here had a friend drive it home to my driveway (safe and sound) the car needs a few things for sure.... car has 240 r 14's they need to go at least in the rear, what meat do you run on your rear Mike? I want to put the thickest 15"s possible w/o bending anyhting i run 275 r15's would like that size if they fit (she has air shocks and tracktion bars) the engine seems very very strong wich i am estatic about sound monsterous even the 4spd seems good, interior is pretty mint the few things with the car, the factory hood pins etc look like they are fudged, Mike I might need pics of the underside of yours if you can...
no heater set up
points need a good malory and high energy spark perhaps jaccobs
right side door mech is a bit funky..
one of the 3 cobra centers is missing
also there are 3 after market buttons that i dont know what they do !!!! yikes hehehe
Ok enough for now but wow I have my summers project is cut out for me...."
Congratulations on adding another Torino to your stable (he also has a '72). Looking good........