The following comes from Mike Cunningham of Tullahoma, Tennessee. Mike writes "Mike, Here are some pictures of 2 of the cars I own. First one ids my 70' Torino Cobra with the J-code 429 CJ RamAir. I purchased this car this past summer from Greg Moran in Ohio who did a beautiful job restoring a rust free Arizona car. All I've done is add a few minor details such as the shaker seal, radiator hoses, front spoiler, etc. This car has 65,000 miles on it with the Hurst 4-speed, console, tach, window louvers, and "Grabber Green" paint. Greg also freshened up the motor with a Super Cobra Jet cam and Holley carb. With a 2-chambered Flowmaster exhaust system, this thing runs BAD, along with sounding great! According to the report I got from Marti Auto Works, the only option that is on the car now that it didn't come with are the Magnum 500 wheels. They're staying on though. I've owned several Torinos throughout the years as the second car I owned was a 71' Torino GT. I've also owned a 69' Torino GT, 72' Torino Sport, and a 69' Talladega. My dada owned a 68' Torino GT so I guess that's where it comes from.
The second car shown is one I just recently purchased. It's a 1978 LTD II sport, which as Torino people know, is the car which replaced the Torino after 1976. This car has 47,000 original miles ad I purchased it from the original owner in Wyandotte, Michigan. The car was sold new at Southgate Ford in Southgate, Michigan. It's midnight blue with the white tri-color stripe (sports appearance package), 351W (no performance, 144hp), console automatic shift, AM-FM 8 track (still works great), 2:50 rear end, and bucket seats. I had a black one just like this after I graduated college in 1980, except it had the red tri-color stripes. When my wife and I got married in 1983, she wasn't thrilled about this car, so it had to go. Almost 20 years later, I wanted another one and my wife isn't to thrilled about this car, but oh well. You don't see these cars around anymore and that's why I wanted it. Anyhow use these pictures as you wish and again, what a great website you have. Mike Cunningham"
Thanks Mike, great photos and stories. I could build a web site just about your cars! I love both cars, they both look fantastic. The Torino looks wonderful, and you're right about the LTD...I can't remember the last time I saw one. You're also right about that wife thing.............. (sometimes)......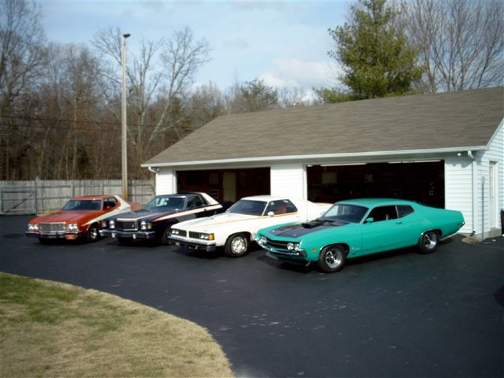 1-2-2005 - "Mike, It was almost 70 degrees here today in Tennessee so like Lynrd Skynrd said Live on "Gimme Three Steps".....I "brought all my mules" out today. From left, 1976 Limited Edition Starsky and Hutch Gran Torino, 1978 LTD II Sport, 1977 Pontiac Can Am...only 1377 built, and my Grabber Green 1970 Torino Cobra. All ya'll have a Happy New Year.
Mike Cunningham, Southernwheel 429 2005"