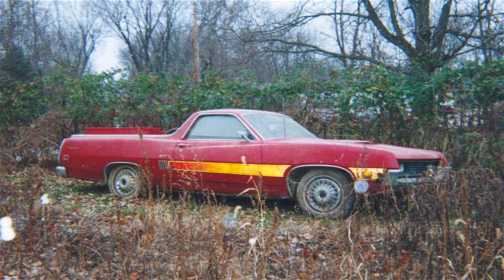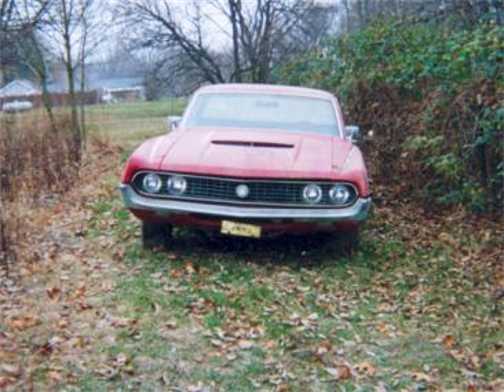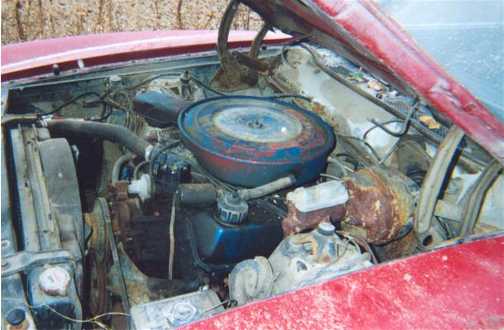 The following comes from Mike Wyatt of Dana, Indiana. Mike wrties "Mike, I just got some pics of my 70 Ranchero scanned in. It's an all original 1970 Ranchero GT with a 429 & C-6. My grandfather bought it new at Jack Thrasher Ford on Wabash Avenue in Terre Haute, In. He took delivery of it on April 24, 1970. The truck is extremely documented (my grandmother was meticulous at saving things), I have the sales brochure that they got, vehicle registrations from 1970-1992, all of the factory glove box goodies, and the list goes on. As the story goes, according to my grandfather, he wanted a 351C powered Ranchero Squire. Luckily my mother and grandmother talked him into the GT package for the Laser Stripe. So now they were getting a 351C in a GT Ranchero. My Uncle decided that a 351C was just too small, so he convinced grandpa to get the 429.
I suppose it's not all original because the quarters were replaced and new paint and laser stripes were applied in 78 and the seat was recovered around 82, but other than that it's all there.
Currently the Ranchero rests in my grandfathers shed, it's resting place for the past 10 years, until we get room at home. I plan on starting restoration around May when I get a job. Things will probably be slow since I will graduate in May but i hope to have it on the road by September. I'll send you pics of the restoration as it goes. Thanks for the great site. Mike Wyatt in Dana, Indiana."
Thanks Mike, there is nothing better than a car with sentimental value! I look forward to seeing your upcoming restoration. Good luck to you!
1-27-2004 - "Mike- My 70 Ranchero GT is on your Guestcars page 12 and sadly it had to meet it's maker today for it was too far gone to save. When the back would be lifted on the jack the bed would move about an inch before the cab would. Twenty years of Indiana mud, snow, salt, and everything else didn't do it any good. So we pulled the driveline and saved all the good parts. It will be soon re-encarnted as a 429 c-6 powered 66 Fairlane Hardtop. I'll send pics when i get the Fairlane home. Just thought you might want to know and post it on my Ranchero Page.
I tried to save it. Mike Wyatt"