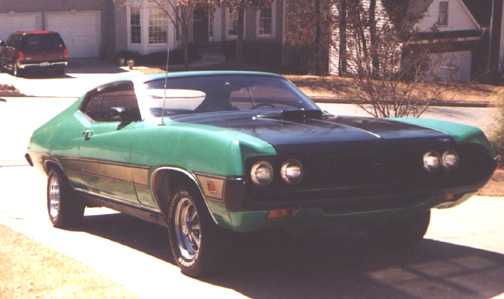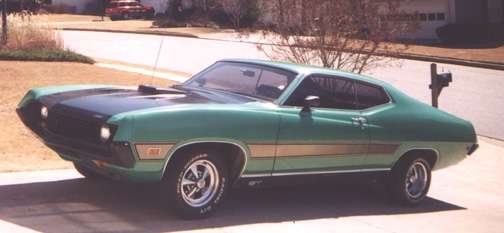 The following comes from Phil Kenning of Lawrenceville, Georgia. Phil writes "Hey Mike, I really enjoy your web site. This is my first Torino, my wife calls it my last. Iíve had it for two years now and would say it quickly became the best car Iíve ever owned. I donít know much of the carís history other than I am the fourth owner. Itís a 71 Grabber Green GT with a 351C-4V, shaker scoop, C6, and a 9 inch 3.25 Traction-Lok rear end (matching the door data plate). Iím still paying the thing off so I havenít really done any thing major to it yet. The previous owner(s) installed an Edelbrock intake and 600CFM carburetor and painted the hood and bumpers black. It has dual exhaust with stock exhaust manifolds. It may have an aftermarket cam based on its vacuum and idle characteristics. Definitely a 4V, not much down low. Makes me wish drag racing could start from 70MPH! The interior has been restored sometime in the past will not require much more work. In the next 5 years I hope to complete an engine rebuild, some minor body repairs and repaint. Also a new laser stripe, as you can tell the current one is extremely faded. Until then Iím just enjoying an occasional ride and trying to save up for the future work. Of course I would save a lot more in gas money if I could just keep my foot out of it!
Phil Kenning Lawrenceville, GA"
Thanks Phil, looks like you are starting with a great car! As for being the first and last Torino you ever own.... who knows!!!