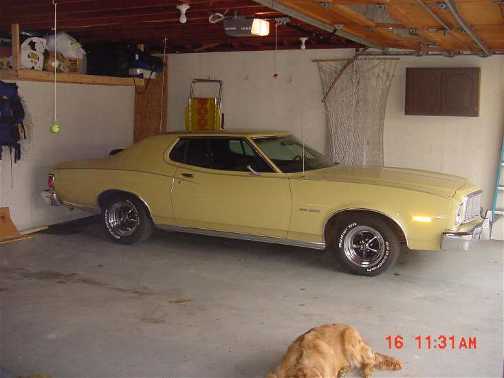 The following comes from Rich Boggio of Romeo, Michigan. Rich writes "Mike, I just stumbled across your web site as I searched for a passenger side mirror for my car. I bookmarked it immediately.
I am attaching a photo of my ' 74 Gran Torino. I received it as a birthday present 13 years ago on my 16th birthday. I drove it all through high school and three years of college before I retired it to storage. It still amazes me that it, and me, survived those years in the Upper Peninsula of Michigan.
The paint is original. The hood houses a 351W with an Edelbrock manifold and Holly 650. Otherwise all else is stock. In the last year I have added Magnum 500 wheels, BF Goodrich tires, dual exhaust, a non-factory radio and electronic ignition. My attention is always attracted to the lack of a passenger side mirror (anyone who has any help on that one would be appreciate)
Your site is awesome. I don't own a cobra...but I do love my Gran Torino. There are many wonderful memories in that car. Here is a rough picture, and half of my golden, Boomer.
Thanks,
Rich Boggio Romeo, Mi"
Thanks Rich, great looking car! Hopefully we will see it in person at the "Bash at the Beach" in July! Thanks....