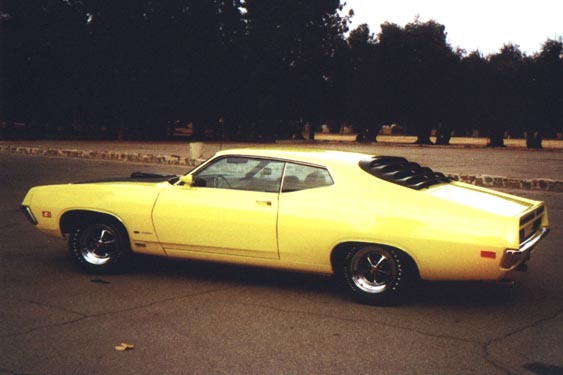 This car is a special car and owner. The owner is a friend of mine Richard Markarian of Fresno, CA. Richard's 1970 Torino Cobra was featured on the February 26, 2000 episode of "My Classic Car" on TV with Dennis Gage. As a matter of fact that is Dennis Gage posing with Richard's car. Richard bought this car in November of 1969, the price $4600. Richard began a ground up restoration in 1990. Every nut and screw was removed and all parts were rebuilt or replaced.
This Cobra is one of the highest optioned Cobra's in the country and includes:
• Console with High back Bucket seats
• Rear window sport slats
• Magnum 500 wheels with F-60x15 raised white letter tires
• AM/FM stereo radio
• AC
• Rear window de-fogger
• Tinted glass
• Visibility Group
• Power steering/brakes/windows
• Deluxe seat belts
• Rim blow steering wheel Deluxe three spoke
• Intermittent wipers
• 429 c.i.d. 4V Cobra Jet Ram Air 370 HP
• Traction lock differential
• Shake Hood Scoop - Ram-Air
• 800 RPM Tach
• Automatic Transmission C-6
Richard sent me these pictures via US mail because as he puts it "Mike I would like to be on your site but I do not know how to send pictures. I am new at this internet stuff". With the pictures he wrote "Dear Mike, I hope these pictures are OK for your site. Dennis Gage is really a Ford man (I asked him). We had a great time doing the show. Stay in touch, Richard".
Thank you Richard for the being a great guy and sending me the great pictures! As a matter of fact Richard sent me 8X10's and now I get to frame them. You can see more of Richards car and the episode at http://www.myclassiccar.com/episodes/006108/torino.html
Thanks Richard !!!