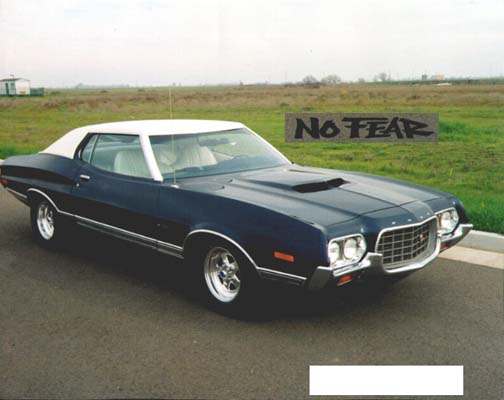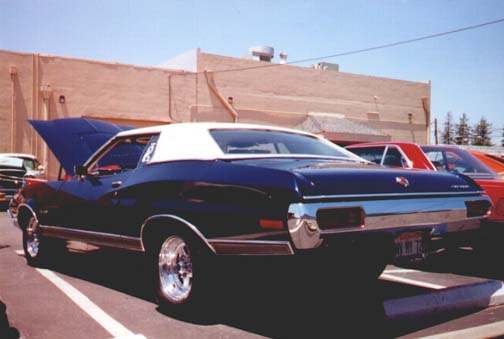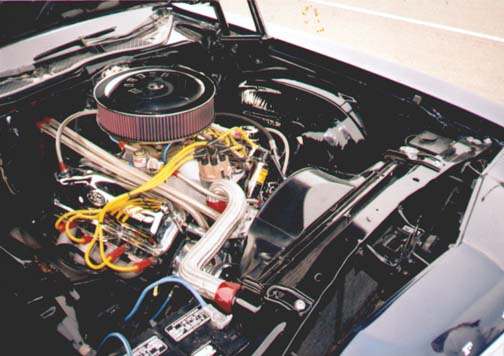 The following are pictures and story of Rick Hartwick's car. There where sent to me by his wonderful daughter Stephanie. Stephanie writes "Hey Mike This is my Dads Torino or should I say his baby. He bought the car when he was 17 years old at an auction. He told his parents to bid on a 1970 Torino Cobra and they came home with a 1972 Gran Torino. He hated the car for many years but it eventually grew on him because today he wouldn't sell it for a million dollars. I would really appreciate it if you put the car on your website with the others. My dad also has a 1972 Gran Torino sport but that car is still in the process of being restored. Your site is great, I think it shows that there were other good looking cars made in the 60's and 70's besides the Camaro and the Mustang. The engine in the car is a 1970 351 Cleveland 4V,it has a 622 lift solid lifter roller cam with big block Chevy roller rockers. The heads ar completely ported and polished with stainless steel tuliped valves and port plates. It has TRW forged pistons with 11.3 to one compression. of course it is balanced and blueprinted. Some of the other engine mods are as follows, Hooker headers, reworked Torker manifold with a Holly 750 double pumper, March pulleys, ARP bolts through out, Accel ignition, a N.O.S cheater system and a host of other stuff. Oh yea I forgot to mention everything on the engine is either chromed or polished., I cant really say the car is a daily driver because my dad wont take it to work because he can't watch it and he doesn't drive it in the rain, but it could be driven every day if he wanted to. The car is complete in and out nothing has been taken out to try to lighten the car up at all and it hits the scales at 3,980 pounds without him in it and he weighs 250 pounds so far the car has run a best time without the N.O.S. of 12.70 at 110 MPH. We cant tell you what it would run on the nitrous because our local track wont let you run in the 11 second bracket without a roll cage and my dad refuses to cut on the car, but we are sure the car could dip well into the 11s in full street trim with street tires if he hit the button, Thanks for your time....
Sincerely, Stephanie Hardwick"
No, thank you Stephanie. Your Dad is very lucky guy. Not only does he have this great looking car, but he has a thoughtful daughter who obviously loves him very much. The thanks go to you!!!