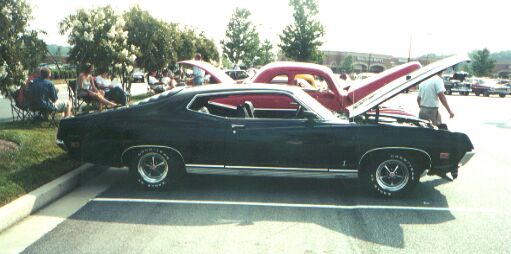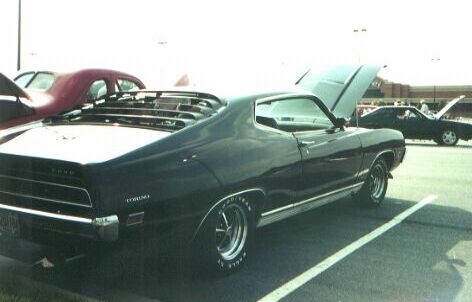 Thanks Rick for the Christmas Card!!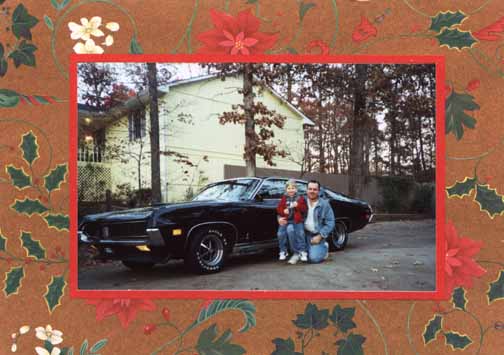 I received the following email from Rick Littell of Atlanta, Georgia. Rick writes "Hey Mike, I finally got some pics scanned of my car. Kevin Casto was kind enough to scan them for me. Here's the story of my car. It was built in Atlanta in 1971, and has been a southern car all it's life. In the early seventies it was a moonshiners car in Alabama. It had at one time a bullet hole in the drivers door. It sat under a tree in front of the moonshiners house for four years before it was bought by the gentleman who restored it. The factory color was blue, it's now black. It was restored in the early ninties.It is a numbers matching 1971 Ford Torino GT,with a 429 cobra jet with a C-6 transmission. The only modifications to the engine is a bore of .30 over and a Melling 3/8 cam. The interior is perfect. The outside of the car is in great shape, except for a little orange peel in the paint in a few places. It is a very alluring car, and I enjoy driving it to cruise-ins and car shows. Thanks for putting my pics on your website. It is my favorite Torino site and is a "must check" every week."
Thanks Rick. You and I have exchanged so many emails that I'm surprised your not my kids Godfather! Just kidding.... Rick bought his car back around the same time that I got my current one. It's nickname is the BamBoozler. I'm really glad that you got what you wanted, and it is one BEAUTIFUL car! Congratulations....