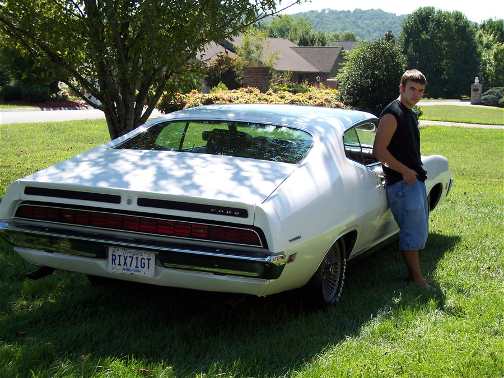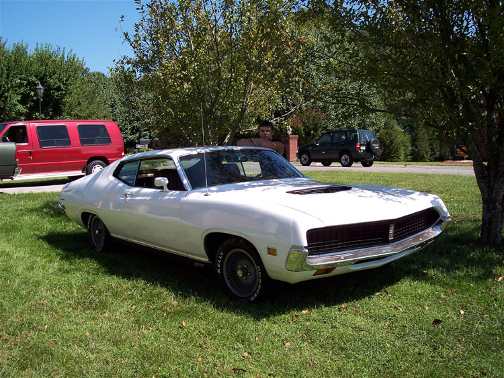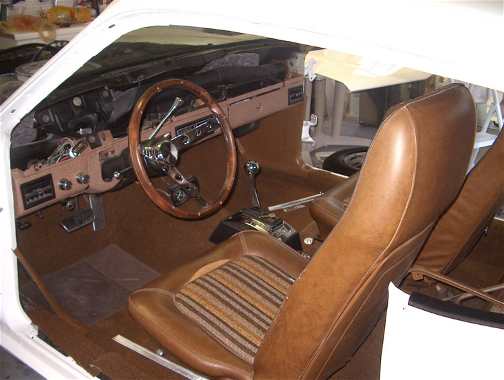 "Mike, Love the web site. It was a great source of info and pictures for us during our Torino adventure (see attached pictures). We purchased the 1971 Torino GT with a 351 Cleveland and an FMX transmission about two years ago for our tenage son. It came with a 1970 Ranchero GT that was essentailly stripped with the exception of some body parts. The Torino was the off-white/almond color with the really cool ginger bown interior - bucket seats but console missing. The interior and exterior were really rough and thus we opted to "restore" the car ourselves. It is now white with new carpet and headliner and some other custom touches to the dash and trunk. We adapted a B&M floor mount shifter to the FMX which looks great - better than a column shfter! The wheels are off a late 70s Thunderbird which were on my 1985 Ford Ranger pickup. It's almost finished - engine mods and leaks to fix - new rear springs came today. I'll send a good set of pics to post when we finish wet sanding and buffing and get the laser stripes on it.
My daily driver is a 2003 Ford F150, however, I also have a 1987 Buick Grand National (original owner). We are also now looking for a mid to late 70s Ford PU for #2 son. Like yourself, I am married with children, 3 teenagers ages 17, 16, and 14.
Thanks and take care,
Rick Lowden
Clinton, TN"