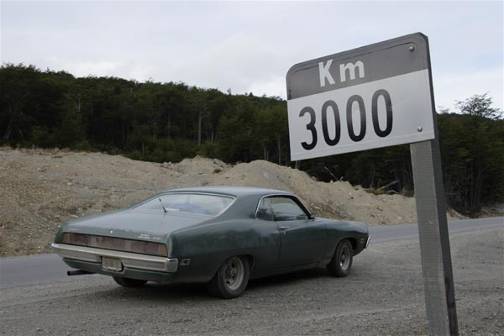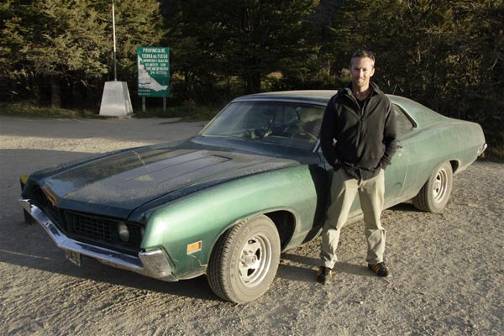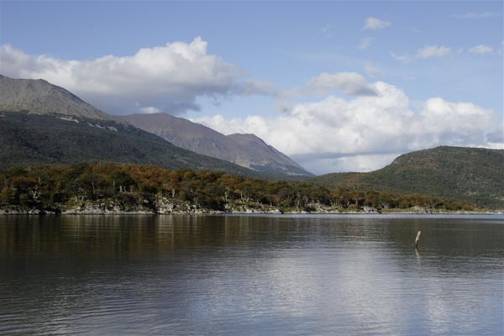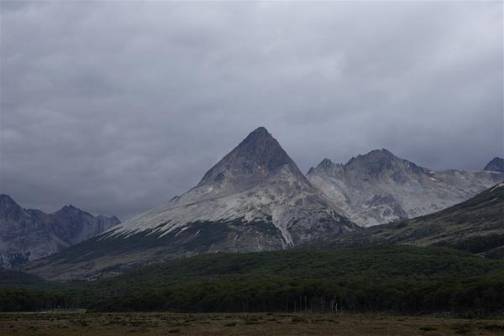 "Hi guys, from Ushuaia!
Yep we made it! And what a stunning and beautiful part (end) of the world it is, about 100 km before Ushuaia we encountered the first trees on the route since BA province and from there we drove past glistening lakes, steep mountains and over a breathtaking mountain pass and down into the Southernmost City in the World! After 2 weeks on the road and about 4,000 km driven it was awesome to arrive here. 4 seasons in one day today with rain, sun, fog, mist, rainbows and more.
Shame about the roads on the Island! Man it was a torture on these rocky, dusty, and bumpy as hell roads. When we passed a car coming the other way it was 5 to 10 seconds of zero visability in a cloud of dust! Thought the car was going to self destruct as we bumped along as slow as we could to save the car and as fast as possible to end the pain!
Got a fright this morning as the motor kept stalling while going along, we managed to start OK each time until it finally died in Rio Grande, luckily we had picked up an immigation officer at the border to bring him into town (I´ll do anything for a Visa!), he helped us push the car to a safe spot and called his mechanic in town, really friendly guy, it was a problem with the distributor, and electrics, seemed to be fixed but reared its head again with 100k left, somehow we got started then no more probs. Will get it checked out here but seems like one of those mystery probs.
Its been an amazing trip so far, so many exciting and interesting places, and a couple of not so intertesting ones along the way (Comodoro Rivadavia springs to mind). The distances are huge on these mainly straight and thankfully sealed all the way to to Rio Gallegos roads. Out on the coast the beaches are wild, remote, and rugged, populated by the occasional lighthouse, shipwreck, or interesting history. Many hardly visited. Been swimming at a few and snorkelled with the Sea Lions in Bahia Bustamante, but waters a bit cold this far South, except maybe for that end of the world compulsary dip! We have seen Penguins, Sea Lions, Llamas, Nandu, Armadillos, Foxes, and heaps of other marine and land birds. No Killer Whales yet though, but hopefully will be lucky at Punta Norte on the way back.
Plenty of interest in the car, which continues to turn heads and baffle enthusiats, as it says Ford and Torino but looks like a Chevvy. Its been so good to do the trip in this car, the essential spirit of travel, journey and the white center line.
"Hey now, hey now dont dream its over, you will never see the end of the road while youre travelling with me"
Hoping that you are all good, thinking of you guys.
Un abrazo, Rob"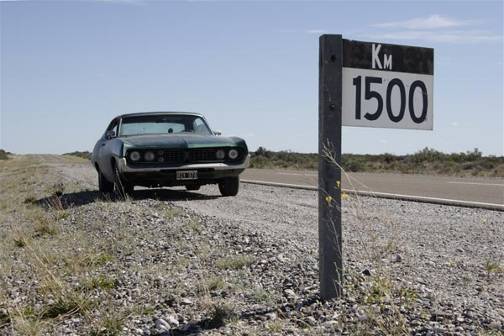 KM 1500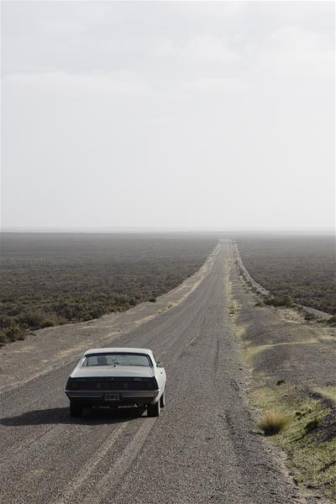 Endless Gravel Road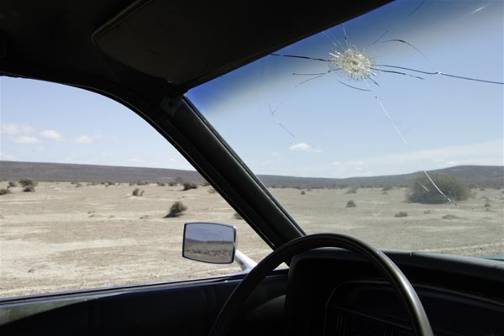 Stone Shot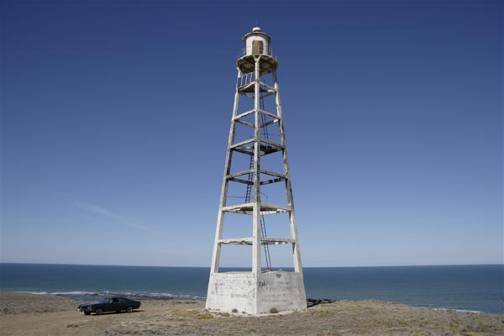 San Julian Lighthouse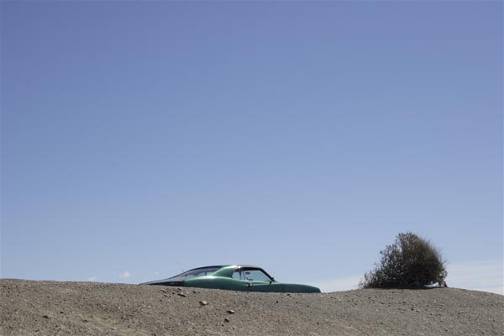 Land Shark
03-09-2005 - "Gidday Mike! Hope you are well.
Well I'm now back in BA after my epic road trip to the end of the World, the futhest South that a Ford Torino has gone! We did more than 8,000km in total, most on sealed roads, some on rock and gravel, and a couple of hundred on the back of a tow truck (snapped bolt on front suspension, and broken bearings on rear wheel), but all part of the experience!
We went to some amazing and remote places, walked on desolte coastlines, saw lots of wildlife, met wonderful people and sampled lots of great food. Car ran superbly and was very comfortable. As you know i've been thinking about this trip for sometime and it was all I imagined and more. There were many moments of endless horizons and straight roads, sort of a beautifully simple existance at the wheel, good karma, meditations on life and the road.............
Here are a few shots, I will send you more words and pictures of the next weeks.
Thanks for your support and best wishes all this time, its been great!
All the best, Rob Mumford Buenos Aires"

Torino on San Julian Coast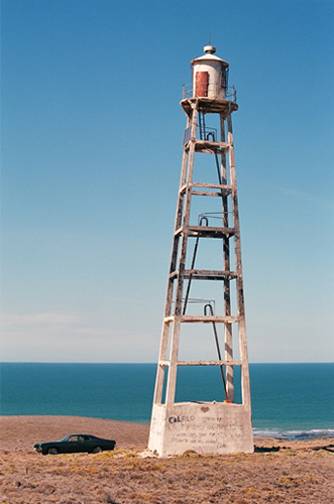 Lighthouse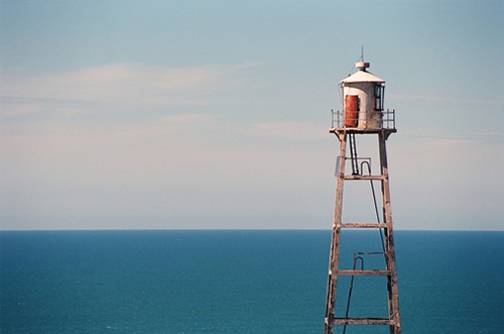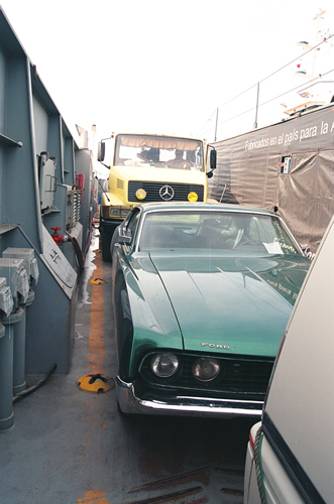 Ferry Crossing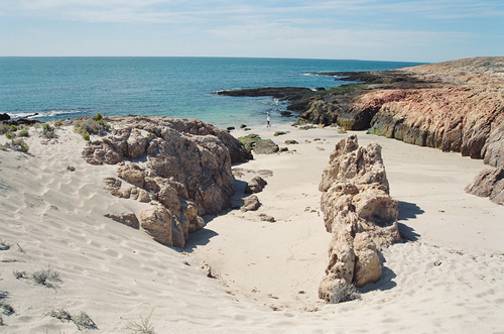 Bustamante Beach
3-25-2005 - "Gidday Mike, Hows it going? Weather warming up for the Northern summner? Down here its getting a little cooler but still bright and sunny. It's a little hard adapting to life in the city again after all that time on the road, there is so much movement here, so many cars, people, buildings, noise, and so little space compared to the endless Patagonian roads and big horizons.
Just thought I'd send you a few more photos from the trip, I saw that you posted the others on your site, thanks for that. I'm working on the story of the trip and will send it to you when I have it done.
All the best, Rob"