Here is a photo of my first 1971 Cobra in 1977. It had a 351 Cleveland with a 4-speed. Notice the wide tires and how high is is jacked up. (a fad of the 70's) In fact, if the air shocks gave way the entire car came down on the tires! It was a blast to cruise back then, as it is with my Yellow 429 SCJ Drag Pack car now. (The bottom photo) Thanks again for this web page, you do a great job! Please keep up the great work. Any plans for a 1970-71 Cobra only car show???? That would be great!!!!
Scott Wiley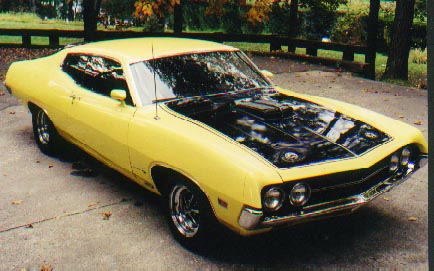 The following came from Scott Wiley. Scott writes "Here are some photos of my 1970 Cobra, 429 SCJ, Drag Pack car. It is loaded with all the best options. Keep up the great work on you website. It is awesome!
Scott"
Thanks Scott for the compliment and the great photos, I think both the car s are "awesome"!