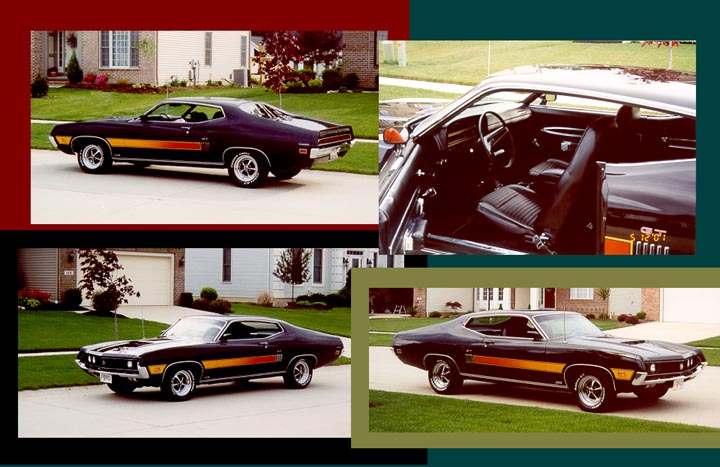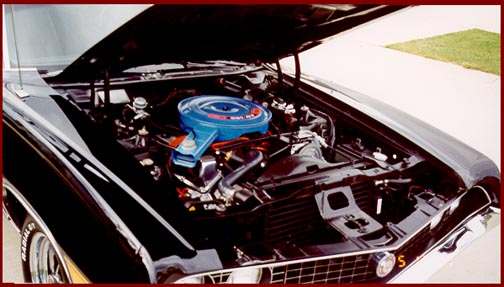 I received the following from Shawn Duffner of Elyria, Ohio. Duff writes "Hi Mike. Thought you might like to add some pictures of my '70 GT to your web-site. I finally have the car I've always wanted. Early this year I sold my mint 1967 Mustang GT fastback (390, 4-spd.) and went on a search for 1969-1971 Torino. I found this Arizona car a couple of months ago through Hemming's and bought it sight unseen and had it shipped up to me in northern Ohio. I guess I figured anyone who spent 6 years to restore a Torino has got to be a good and honest man ...and he was. It has a 351-4V with a Top loader 4-speed, power disc brakes, power steering, AM radio, bucket seats, and air conditioning. - It came from Atlanta Assembly with a 351-2V but was converted to the 4V during the restoration by using a Weiand X-CELerator intake, 600 cfm Holley, and a new Cam to compliment the set-up. Since I've owned it I've added: New 15" Magnum 500's with Cooper Cobra tires (235/60 front, 245/60 rear), a new aftermarket console, had it professionally polished and applied the Red Laser Stripes. I love it and certainly don't miss the Mustang! Thanks and keep up the good work on the world's best Torino web-site.
Fairlanes Forever, Shawn Duffner Elyria, Ohio"
Thanks Shawn, what a fantastic car! Shawn just added the laser stripes and all I can say is WOW! It looks great and beats a Mustang any day.....