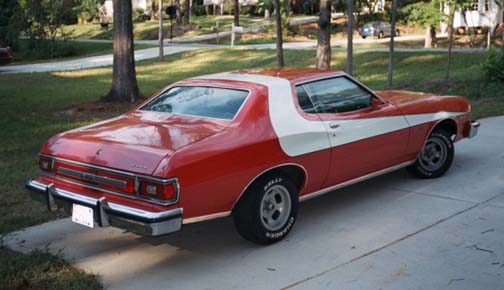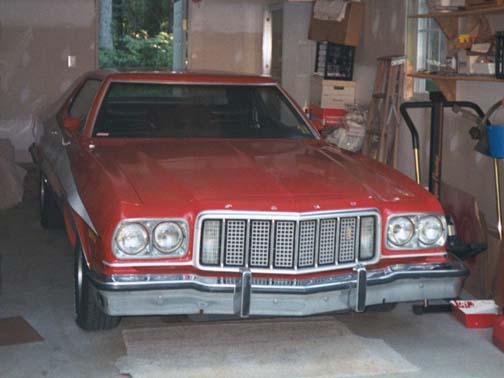 I received this email from Steve Evans of Raleigh NC. He writes "Great Web Site! I love all the pics of the Torinos and others. Lots of good info, too. Please keep up the good work. Attached, find two pictures of my "work in progress" (for, like, twelve years) as it currently looks. I hope to have it fully restored in about a year. It is not an original Starsky and Hutch model, but a replica. It was painted back before TNT started syndication of the show, so all I had to go on was a poster, two puzzles, a board game and a t-shirt to get the paint right. It is a 1976 model, with a '72 351c 4v from a pickup, a '74 Cougar dash with all sport instruments, bucket seats and console from a '76 Torino Elite, and an FMX tranny from a '72 Cougar. The full rear panel reflectors are from a 4-door Torino my dad found in a junk yard. Just got it back from the shop and she will tear it up! A new trans, starter shield, headers, and 3-core radiator are on the list to install. Post if you like. I live in Raleigh, North Carolina, am 27 years old and married to a young lady, Karen, who has been a gift from God . . . despite the fact that she "loves my car because I love it."
Again, thanks for the great site and the frequent updates. Apparently some people like to put up a site and never update it. I'll put it on my favorites list and check back often! "
Thanks Steve...great car and great photos!