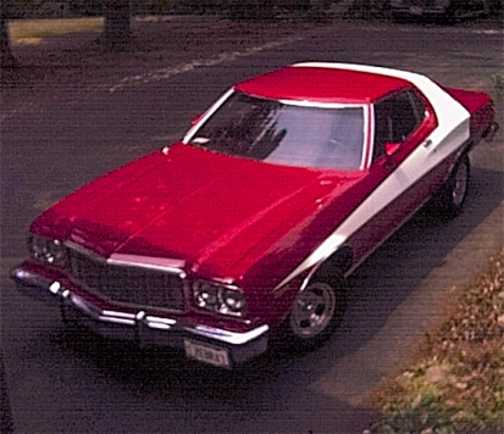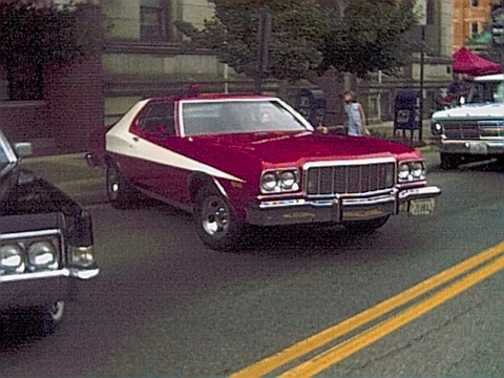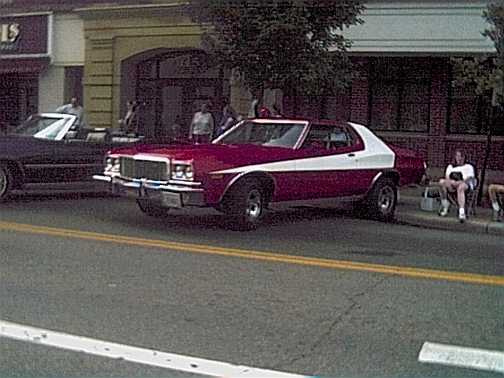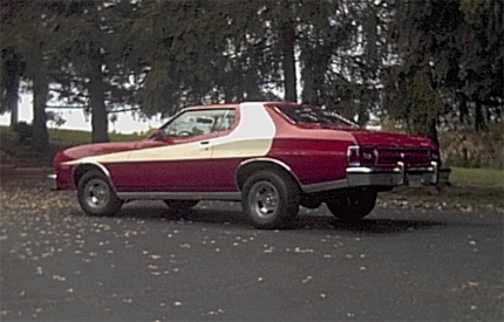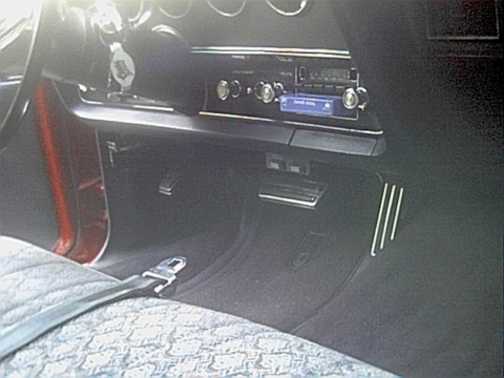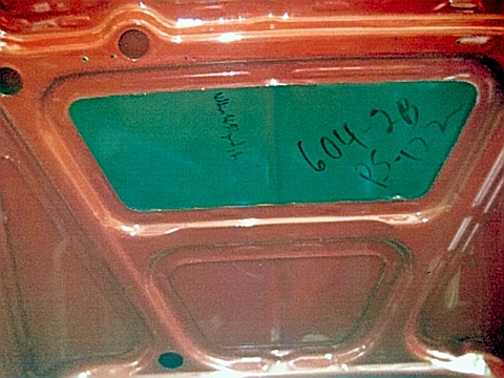 The following comes from Terry and Cheryl Fitzpatrick of Wooster, Ohio. Terry and Cheryl Fitzpatrick write "It is one of the 1,000 cars (DSO code PS-122) produced in early 1976 at the Chicago Assembly Plant. The car was shipped to Hamilton Ford, Hamilton, Ohio and sold there new. It remained in that area until we purchased it in March 2001. The window sticker, build sheets, owners manual and various sales literature were still intact in the manual bag when we purchased it. Even the original BF Goodrich literature and the spare tire were still in the car! At that time it had 89,000 miles on the odometer.
The production date was March 30, 1976. The VIN is 6G30H189556. Its authenticity was confirmed by Mr. Bill Maynard Jr., a former Ford employee who mixed the 2B red paint for the Limited Editions. Bill's signature is now inside the hood beside the factory production line markings (2B [color] and PS-122 [code all original Starsky & Hutch cars carried]) used to match the front clips with the bodies during production. Bill also wrote a very detailed article in the Fairlaner, a publication of the Fairlane Club Of America, Volume XVI, Number 6, Nov/Dec 1996, pgs 13-15. Recommended reading for any S&H fan. FCA membership allows a person access to the library for past articles.
Working with Dan Kinney, owner of Sterling auto Body, Homerville, OH (330/625-4101 for anyone in N/E Ohio looking for a recommendation), my wife and I completed a 7-month restoration last July 2002.
It was restored to closely resemble the 1975 Gran Torinos used in the 1st season of ABC's "Starsky & Hutch." Last year, it appeared with seven other "Starsky & Hutch®" Torinos in an episode of Speed Channel's "My Classic Car." It was pictured in the November 2000 Mustangs& Fast Fords® article about the July Fun Ford Weekend in Norwalk, Ohio and is occasionally pictured in the Fairlane Club of America's TheFairlaner® publication. A Ford authorized parts distributor, Dearborn Classics will also have it as one of the feature cars in their 2003 Torino parts catalog.
According to Anthony Whittaker, Research Unit Rep. from Ford's Customer Assistance Center confirmed the production date and that the car's options were:
351W/2bbl. 8 cylinder; Bright Red exterior Cloth & Vinyl Black Bench Interior Automatic C-4 Transmission Standard Ratio 2.75 non-locking rear axle HR78x14" tires Bumper Protection Group Manual Air Conditioning Tinted Glass Right & Left Remote Racing mirrors Magnum 500 Styled Wheels
We thoroughly love driving and showing the "Zebra 3" car; no trailer queen for us! Our kids enjoy the ride, even if they do have to listen to a David "Hutch" Soul 8-Track! They have introduced the car & TV show to a whole new generation at their school.
Best Personal Regards, Terry & Cheryl Fitzpatrick Wooster, OH"
Thanks Terry and Cheryl, Great car and lots of details!!!! But a David Soul CD???.......
Just Kidding, Thanks!