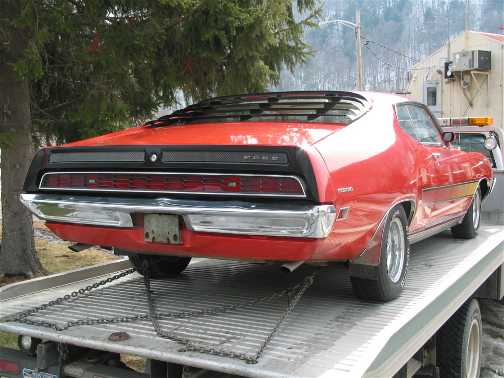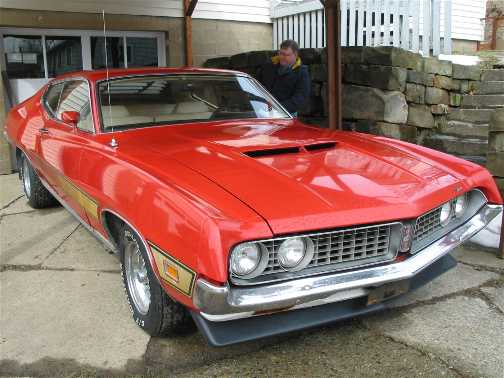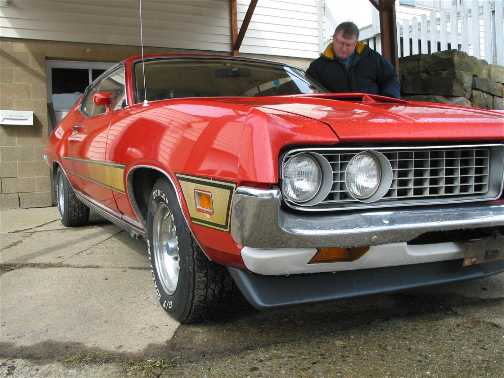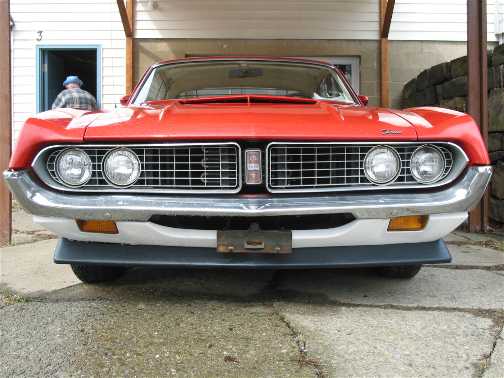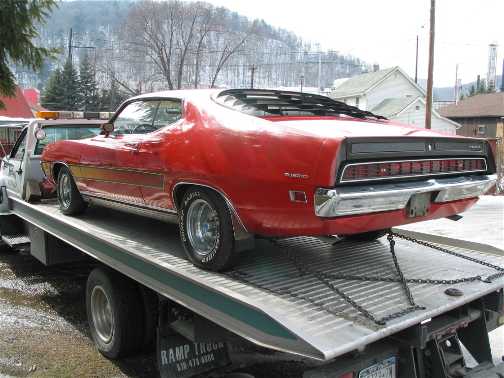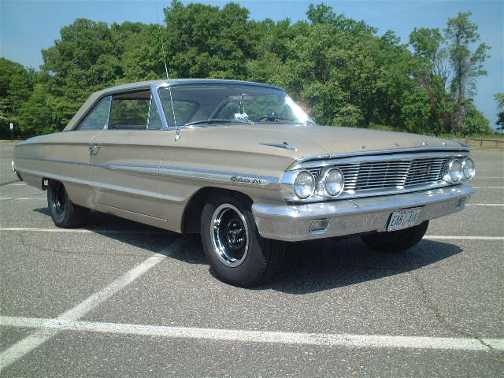 The following comes from Tommy Dowling of Long Island, New York. Tommy just picked up this car on March7, 2003 in NW Pennsylvania. Tommy writes "Hi Mike, photo's of the Torino I picked up Saturday. Not 10 minutes from where we picked it up we stopped for gas for our thirsty flat bed. A individual approached us, and whipped out his wallet. He showed us pics of his 1970 GT! Within a few minutes the car had a crowd of at least 10 people standing around it, checking it out. My thanks to the "stranger" whom owned that 70 GT. He showed me how to open the rear louvers so I could clean under them. I feel like a child on Christmas eve! I was looking for a car like this a few years ago when I found a 1964 Galaxie Fastback that was in pretty darn amazing shape. So I enjoyed that call till the curse of "divorce" stole it from me. Perhaps this Torino is a bit of payback? <wink> Hopefully I will become an active participant in the Forum. As a ASE Certified master Tech sometimes it's hard to find the "Urge" so to speak to get motivated. Thanks again for Providing the Torino Guys a Home. Tommy
P.S. I have enclosed Pics of the car. I also included a Pic of My 1964 Galaxie Fastback I thought you could post. Much like TCH I gave her up when I didn't want to. However Looking back on it, it was the right thing to do. Of course having a fairly rust free 1971 Torino GT in my garage now sure helps the healing process!"
Thanks Tommy, and congratulations! Looks like you have a winner there! We look forward to hearing and seeing more of it. Thanks....